Student Spotlight
Miguel Ruiz-Zaldua
Graphic Design intern for UH Dining
By Richard Zagrzecki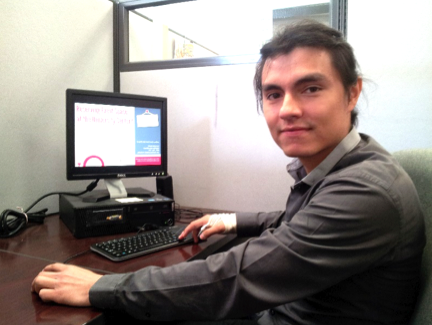 Miguel Ruiz-Zaldua has always had a creative side.
When he was a teenager attending Clements High School in Sugar Land, he became serious about art, focusing a lot of attention on pastel and charcoal works.
He took part in a few art contests and even ended up selling one of his pieces to an art enthusiast.
Nowadays, however, the native of Bogota, Colombia doesn't have much time for art as he pursues a degree in industrial design from the Gerald D. Hines College or Architecture at the University of Houston. That, combined with his minor in digital media and his graphic design internship with UH Dining Services still allows him to tap into his creativity.
"I've been creating marketing materials for print and web platforms," Ruiz-Zaldua said.
That work includes designing advertisements and fliers. It's also led him to designing a large window graphic for a C-store on campus and a wall graphic for a building at the University of Houston-Clear Lake.
"I really had a lot of fun doing those," he said.
He started the internship with UH Dining in August after discovering it while searching for an opportunity to gain valuable experience doing graphic design work. Prior to the internship, he was working part-time as a graphic artist with Whole Foods Market.
"Ultimately, my design intentions involve sustainability and human-centered design. Designing products that are sustainable and cater to human needs," he said. "The graphics are involved mostly in the branding and visual communication of the products, so that's why I want to improve on those skills."
Ruiz-Zaldua has lived in the Greater Houston area since he was 8 years old, when he and his family immigrated from Colombia. He is the first person in his family to attend UH. It was a natural choice, he said, since he lived in the Houston area and UH has an excellent industrial design program.
"UH provided the opportunity to explore different interests," he said. "And they have a lot of good program options."