Sports & Entertainment
Nitro Circus coming to TDECU Stadium in May
By Lauren Stacks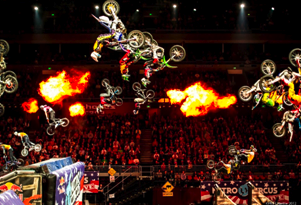 After selling out shows across the country on its inaugural tour of the United States in 2014, Nitro Circus Live is returning to North America, coming to Houston for the first time in 2015.
Nitro Circus Live features 40 of the world's best action sports athletes performing record-breaking tricks in freestyle motocross, BMX and skate. The tour also features crazy stunts on contraptions such as tricycles, snow skis, bath tubs and even a Barbie Car, all launched off the 50-foot high Gigant-A-Ramp.
Travis Pastrana, the greatest action sports star on the planet, will be riding FMX throughout the tour. Accompanying him will be the stars of Nitro Circus' hit MTV show and 3D film.
The show will be held at 7:30 p.m. on Sunday, May 24, at TDECU Stadium on the University of Houston campus. Tickets are $39, $49, $79 and $99, not including service fees. A limited amount of VIP packages are available for $300.
Tickets can be purchased online at www.entertainhouston.com, by phone at 713-462-6647 or 877-COUGAR-5, or at the TDECU Stadium Ticket Office at 3750 Cullen Blvd. Ticket Office parking is located in the Stadium Parking Garage.