PUBLIC SAFETY
Student wins survival backpack for completing siren survey
By Ginger Walker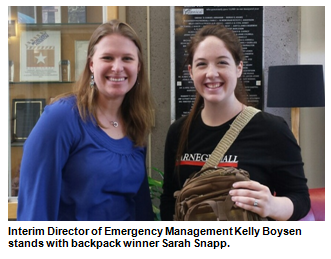 During National Night Out activities on Oct. 7, the Office of Emergency Management conducted a survey on the University of Houston's outdoor warning siren system.
The idea of the survey was to poll the campus community on its knowledge and awareness of the campus siren.
Everyone who completed it was entered into a drawing to win a survival backpack.
The winner was Sarah Snapp, a freshman majoring in biology who hopes to attend optometry school after earning her bachelor's degree.
"When I learned that I won the backpack, I was pretty excited because I never win anything. I kept bragging to my best friend who keeps trying to win prizes," Snapp said.
She said she plans to put first aid supplies and safety gear in the backpack and keep it in her car for emergencies.