Facilities Management
Improvements to intramural fields include new lights, better drainage
By Richard Zagrzecki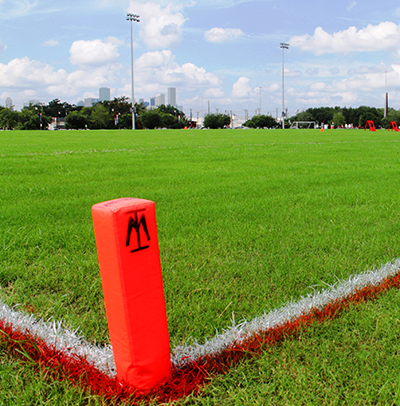 University of Houston students, faculty and staff who drive down Cullen Boulevard from Interstate 45 may have noticed the large light poles that stretch upward toward the sky near the edge of campus.
The installation of those lights is one of several improvements made to the intramural fields, which are located to the east of Cullen, just north of Elgin.
Work to improve the fields began in April, said Roger Warner, assistant director of Central Facilities Services who also serves as the campus landscape architect.
A base layer of fill dirt was placed over the existing fields to correct drainage problems. There is approximately three feet of fill at the center of the fields, which tapers down. Then a cap of sand/soil mixture was placed over that, which provides an excellent growing surface for the grass. Much of the dirt came from renovation work to the baseball field and the football practice field.
A new irrigation system was installed and blackjack Bermuda grass was planted. New electrical and lighting was installed to allow for night usage. In addition, a water fountain was installed.
"First and foremost, people will notice the lights," said Warner. "Another noticeable improvement is the quality of the fields. The old fields were very uneven and had low spots that would collect water. After heavy rains, they would be unplayable for several days."
Drought conditions in 2011 caused the soil on the fields to shrink and exposed buried chunks of concrete. The new fields have an even surface and a consistent covering of turf.
The general contractor for the project was Vaughn Construction. Athletic Field Specialists installed the irrigation, did the laser grading and seeded the field. Musco Lighting provided and installed the lights. Johmar Electric did the electrical work.