Dining
New UH Dining website adds interactive features, mobile support
By Amber Arguijo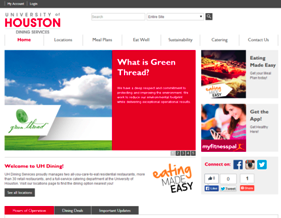 The UH Dining Services website has undergone a complete transformation, featuring a new design with a contemporary feel, mobile support and a myriad of interactive features.
The entire site is now compatible with mobile devices, providing popular information like meal plan choices, menus, nutritional information and location contact information.
New residential menus on the site now allow visitors to see nutrition for an entire meal by selecting all of their desired items, compare item nutrition in side-by-side view, and save their favorite menu items in order to receive an alert every time those items are being served. Icons next to the menu items also help guests quickly identify items that fit their diets, including vegetarian, vegan and low-calorie items. A full list of icons is located in the Eat Well section of the new site.
Meal plan decisions have been made easier with the ability to filter meal plans by eligibility and to compare plans side by side on the site. Once a decision is made, each meal plan page links directly back to the AccessUH site for purchase.
Hours of operation for the semester and upcoming holidays are now easily accessible on the home page under the Hours of Operation section. The hours are available as PDFs for easy printing or as a reference to all locations in one place. Individual location hours are also posted on each location's page.
To see these and other new features in action, visit the website at www.uh.edu/dining. Follow them on Twitter at www.twitter.com/uhdining and like them on Facebook at www.facebook.com/uhdining.