AUXILIARY SERVICES
Call goes out for volunteers to help at Finals Mania
By Richard Zagrzecki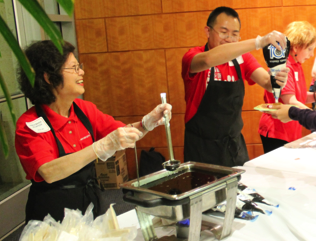 Twice a year, students flock to the Rockwell Pavilion in M.D. Anderson Library to eat pancakes and sausage, grab a handful of snacks and share some laughs with friends.
The tradition known as Finals Mania started in 2008 to provide a break for tired and stressed students as they prepare for final exams. The two-hour event will take place once again on Monday, Dec. 8, starting at 8:30 p.m.
The call has already gone out for volunteers from within the UH community to help at the upcoming event, which is expected to be attended by more than 1,700 students.
"It is the dedication and devotion of staff and faculty members who give their time and energy that make Finals Mania a success," said Maria Honey, assistant director of marketing and communications for Auxiliary Services. "We are very grateful to those who help every semester, and we'd like to invite new faces to pitch in and see what a great event this is."
Volunteers are needed to do such things as greet people, make and serve pancakes, help direct the line of students waiting to be served, man beverage stations and hand out meal tickets.
Those who are interested in volunteering should contact Emily Fahner, marketing coordinator for Auxiliary Services, by email at efahner@central.uh.edu or by phone at 713-743-6571.