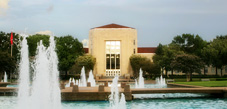 Employee Spotlight: Jessica Mize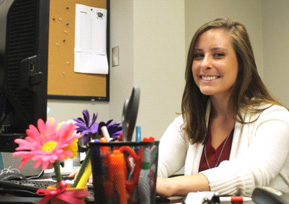 Jessica Mize may be new to her job at the University of Houston, but she�s very familiar with the campus.

Mize has been the marketing coordinator for Auxiliary Services since the beginning of April, returning to the university where she earned a bachelor�s degree in broadcast journalism in 2011. She�s happy to be back.

�I always wanted to return and work here,� said Mize, who grew up in Houston and graduated from Bellaire High School. �I�m so glad things worked out this way.�

One of the first projects Mize was involved with in her new job was Finals Mania, an event held at the end of the spring and fall semesters to provide students a much-needed break from the stress of studying for exams. It wasn�t all that long ago that Mize had attended the two-hour event at the library as a student.

Her first job after graduating from UH was as a communications coordinator for KBR Engineering, helping with a multitude of tasks, including editing, proofreading, and assisting with emails and newsletters distributed to the company�s employees worldwide. After that, she went to work for an online marketing company as a staff writer, doing website work and other marketing materials for client companies.

Around that same time, she landed an evening job as a producer for the Outlaw Dave radio show on 950 AM, a position she held for a year. Radio work, however, was not new to her � she had previously interned with ESPN Radio and The Buzz.

Mize, a camping enthusiast who likes all kinds of outdoors activity, initially wanted to seek a print journalism major when she first arrived on the UH campus in 2007. The uncertainty of the print journalism field led her to broadcasting.

�I discovered that I could learn the technical side and still get to write some,� she said.
She wasn�t the first person in her family to attend UH. Her older sister came her first.
�My sister loved it here and so it appealed to me, too. I ended up having a great time,� Mize said.