INTERNSHIP NOW OFFERED WITH NEW GREEN MOUNTAIN ENERGY PARTNERSHIP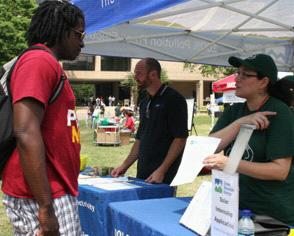 An exciting new partnership also brings an exciting new opportunity for one lucky UH undergraduate student. Green Mountain Energy and the University of Houston announced the Solar Energy Internship, a paid internship that will be provided on an academic-year basis.

The new internship will pay $1,000 per semester and will be funded from the savings generated as a result of the new solar array that is planned for installation at the Central Utility Plant. The intern will be responsible for keeping track of the performance of the solar array and providing weekly updates to a web page specifically dedicated to the solar array. Each semester, the intern will also plan, publicize and execute an educational event on solar energy.

Applications for the 2011-2012 academic year were handed out at the Green Mountain Energy tent during the Earth Day Carnival on April 21. They are also available on the Green UH website. Applicants must include a written essay of no more than 500 words with their Solar Internship Application.

All applications and essays must be hand delivered to E.Cullen 226 by 5 p.m. on May 30, 2011. The Campus Sustainability Task Force and Green Mountain Energy will make the selection and notify the intern by June 30, 2011.