Facilities
Facilities' Bill Allen recognized by UH Libraries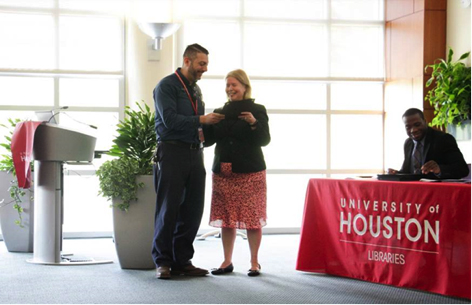 By Angie Sandoval
The University of Houston Libraries annually recognizes an employee from outside the UH Libraries to show appreciation for efforts that go above and beyond the normal work routine. This award is known as the Dean's Library Advocate.
The recipient must have worked closely with the Libraries during the past year, and should have made a contribution to its success. In March, Facilities Building Management Systems Lead Bill Allen was honored with this award.
Over the last year, Allen had been assigned to the library to address all heating and air-conditioning issues. As a result, he was attentive in making sure the room temperature in the Elizabeth D. Rockwell Pavilion remained at a comfortable level for various events.
He also made sure if for any reason he was not available to respond, he would contact someone else within his group to troubleshoot the call. Allen made it a priority to constantly check in on a daily basis for any adjustments needed for temperature and made sure to address them immediately.
In addition, he made sure to notify the building manager of any work that was going to be done well in advance of the timeline. This allowed the manager to effectively communicate with occupants to foresee any issues.
Allen was also a part of the ride out team during Hurricane Harvey and made sure to fix all HVAC issues that resulted from loss of power.
UH Libraries Dean Lisa German had many kind words to say expressing appreciation for Allen's dedication.
"Bill has a very welcoming personality, and is always willing to go the extra mile. Bill is an absolute pleasure to work with," she said.