Printing & Postal
Printing and Postal wins local and regional honors
By Kristina Michel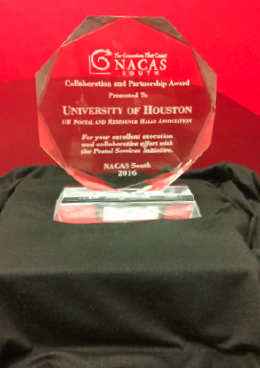 University of Houston's Printing and Postal Services Department has been recognized by two prominent professional associations for service and creative excellence.
UH Postal Services received the NACAS South Division Award for Outstanding Collaboration/Partnership for its work with UH Student Housing and Residential Life. The award recognizes a unique, innovative or distinctive partnership that benefits the university and its respective community. UH Postal was chosen for the award out of colleges and universities in 12 states.
"The NACAS award is a first for UH Postal Services. It means that we are committed to providing excellent service to our residential community," said Deborah Davis, director of campus services. "We understand that we must have continuous open dialog to identify what the needs are for this community. Building and expanding the UH Postal and Student Housing and Residential Life relationship will provide the platform for achieving more success, which ultimately means better service for our students."
Originally known as the National Association of College Auxiliary Services, NACAS is the largest auxiliary services support organization serving higher education. The South division covers 12 states: Texas, Alabama, Arkansas, Florida, Georgia, Kentucky, Louisiana, Mississippi, North Carolina, South Carolina, Oklahoma and Tennessee.
UH Printing Services also swept the Division I category of the Graphic Excellence Awards, winning three out of the four trophies awarded. The department won the Best in Division, the Silver Award and the Bronze Award for the 2014 President's Report, Student Media calendars and for the Conrad N. Hilton College of Hotel and Restaurant Management Hall of Honor Program brochure respectively.
Staff members were also honored with the Best Inplant Entry for the 2014 President's Report. An inplant is a print facility within a company that only does print jobs for its company. This marks the fourth year in a row Printing Services has won in this category.
The Graphic Excellence Awards ceremony, held April 13, was sponsored by the Printing Industries of the Gulf Coast, a regional affiliate of the Printing Industries of America and the Graphic Arts Technical Foundation.