Sustainability
Being a locavore is possible
By Urban Harvest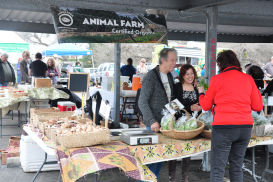 The word "locavore" was coined in 2005 by a group of four women in San Francisco who proposed that local residents should try to eat only food grown or produced within a 100-mile radius. The word 'locavore' became the Oxford Dictionary's word of the year, and it "shows how food-lovers can enjoy what they eat while still appreciating the impact they have on the environment," said Ben Zimmer, editor for American dictionaries at Oxford University Press. "It's significant in that it brings together eating and ecology in a new way."
The movement encourages consumers to buy from farmers markets or even to grow their own food. Locavores have discovered that fresh, local products are more nutritious and taste better. Leaders encourage people to change where they grocery shop and begin to shop at farmers markets, Community Supported Agriculture, Co-ops (CSA), farm stands and supermarkets that carry locally grown produce.
Critics say that locally grown food tends to be more expensive. However, a thrifty shopper can find competitively priced food, and proponents say that by eating locally, you support your local economy and help build your community. Also by buying locally, your carbon footprint is reduced. The Leopold Center for Sustainable Agriculture did a study and approximated that the "food miles," of a vegetable travels an average of 1,500 miles from the farm to your neighborhood grocery store. That is seventeen times more oil and gas than a local diet. Proponents of the movement encourage distributors to buy local because it enhances the economic stability of the area.
Locally grown fruits and vegetables are usually harvested within twenty four hours of being sold at a farmers market, and are at their height of nutritional value. Producers at farmers markets tend to raise unusual varieties of food that won't be in supermarkets because of their short shelf life. Since the same produce generally isn't offered year round, locavores advise to preserve (freeze, dry or can) your favorite food to enjoy later.
At a farmers market, you can look the producer in the eye, and find out exactly what you are buying. Customers are encouraged to ask questions like, "Were any pesticides used?" "Is the corn used in the chicken feed genetically modified?" Producers are proud people, and love to share their techniques with their customers. It can be that a farmer will welcome visits to their farms, and allow people to see the details of their operation.
Challenge yourself to know more about where your food is coming from and come on out to the Urban Harvest Eastside Farmers Market, Saturdays, 8 a.m. to noon, and Sundays, 11 a.m. to 3 p.m. (located in the parking lot of the building at 3000 Richmond Ave.).
This column is produced by Urban Harvest. Learn about gardening classes, community gardens and orchards, farmers markets and more at Urban Harvest website. The article is written by Julia Trainer, a former Urban Harvest farmers market manager.