Plant Operations
Facilities Management loves UH Earth Day
The UH Office of Sustainability hosts an Earth Day Festival every year for students to find new ways to be more earth-friendly. Facilities Management was among the exhibitors at the April 22 event in Lynn Eusan Park showcasing how UH is going green.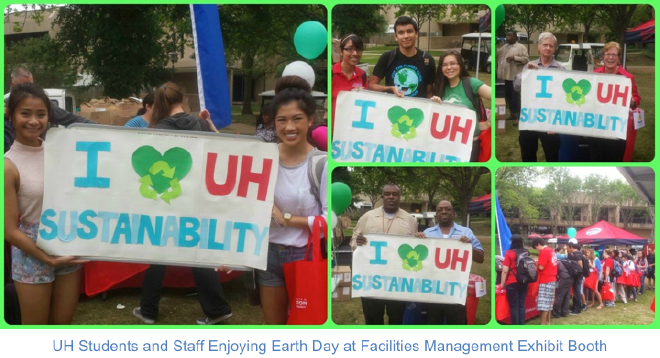 Facilities Management promoted that the University has undergone initiatives to make it easier for the campus and students to participate in recycling. Students, faculty and staff are urged to use one of the 83 locations across campus where Big Belly solar-powered trash and recycling bins have been installed. These solar-powered bins use wireless technology to notify solid waste and recycling crews when they are full, thereby saving time and labor costs because crews are dispatched only when the units need to be emptied.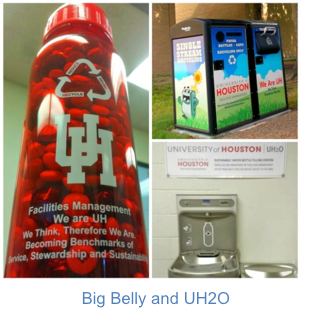 Facilities Management also informed students about the UH2O water bottle filling stations located across campus. These stations provide double-filtered water that is easily dispensed into reusable water bottles. By reusing water bottles, students are helping keep plastic water bottles out of landfills. The first two of filling stations were installed on campus a little over a year ago. The total number of UH2O filling stations locations has grown since then and is now at 63. Each unit has a counter that tracks each fill. To date, more than 540,000 plastic water bottles have potentially been kept from being trashed and sent to landfills. Facilities Management handed out more than 250 reusable water bottles during UH Earth Day as a way to help educate students about how they can do their part to help with sustainability.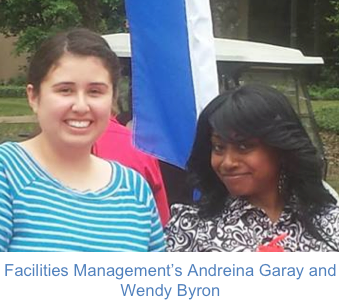 Andreina Garay, UH communications student and one of the Facilities Management communications office team members, was on hand throughout the entire event, talking to everyone who came to the booth.
"Students had a great time laughing and visiting with others as they waited to receive their water bottle and have their picture taken holding the 'I heart UH Sustainability' poster," said Garay.
Visitors to the booth tried to guess how many pieces of candy were inside one of the Facilities Management reusable water bottles and how many pounds a large palette of recycled box cardboard weighed. The palette of recycled cardboard was provided by the Solid Waste crew.
"Students noted that while they may not be the best guessers, it was fun just giving it a try," Garay said.
The winner of the candy pieces contest received the candy-filled water bottle and the winner of the cardboard palette weight contest won a McAllister's gift card. Students were also invited to like the Plant Operations Facebook page.
Facilities Management would like to thank everyone who stopped by the booth to help support UH sustainability. Special thanks also to volunteers Andreina Garay, Karen Hobbs, Wendy Byron, Art Hajecate, Mike Wheeler, Craig Whitfield, Roger Warner, Johnnie King, Jack Enochs, Jacquie Vargas, Jerry Bogna, Steve Wright and Myrlin Brazil