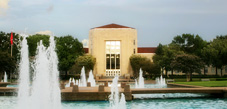 EMPLOYEE SPOTLIGHT: Ginger Walker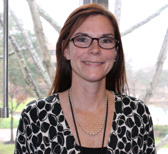 The University of Houston is close to the hearts of the Walker family, originating back to Hugh Walker, the founding dean for the College of Natural Sciences and Mathematics and one-time interim chancellor. Ginger Walker, Hugh�s daughter-in-law, has continued on with the family tradition by serving the University of Houston for close to 15 years.

Ginger, a Houston native, had just moved back to her hometown in 1997 as her husband Robert, also now a UH employee, finished up his service with the Marine Corps in North Carolina. The couple had decided to make Houston their home once Robert�s service was complete so Ginger was looking for opportunities in the area. Hugh Walker himself suggested she apply to work on the UH campus.

�I felt honored that he even made the comment to me. I held him in the utmost high regard,� Walker said.

A Texas Tech University graduate, she said she enjoyed the atmosphere of a college campus and felt like it was �a home away from home.� She got a job as the office assistant in the office of Jim Hale, the Senior Vice President for Administration and Finance at that time. In her position, she performed general office duties such as answering phones, filing, prepping documents and assisting as needed. She said she had no idea at the time how her journey would move forward.

�My parents taught me some important values and had said there�s nothing wrong with starting at the bottom. Chances are you�re going to feel more secure because you have learned so much along the way,� she said.

She soon moved up into an administrative assistant position for Randy Harris�s term as Vice Chancellor/Vice President for Administration and Finance followed by John Martin the Associate Vice Chancellor/Associate Vice President for Administration before he left for Florida. While working for Martin, Walker was the key contact for the search for a new police chief. This is where she met Bob Wilson. Wilson wanted a person on his team who was familiar with the university and its administration, and Walker was the perfect fit.

�I�ve been lucky enough to work with some great executives so I�ve been able to gain a lot of knowledge along the way that�s been very useful to me,� she said.

She assisted Wilson for five years before he passed the torch to the current Assistant Vice President for Public Safety and Security to Malcolm Davis. Davis and Walker have been a team for six years now. Walker is the gatekeeper of the office, providing administrative support such as scheduling, writing memos and announcements, handling communications, serving on committees, facilitating committee meetings and working on major projects for the department.

�Ginger has a true commitment to everyone within DPS, providing excellent service with a customer-centered focus,� Davis said. �She is very much in tune with how DPS is perceived within the university and is quick to let me know if we have strayed off track. In my opinion, Ginger adds value to everything we do.�

The Department of Public Safety oversees the campus police, emergency management, environmental health and safety, fire marshal�s office and security on campus. They are a vital part of the university, and Walker in particular has demonstrated her respect and fondness for the team. She said she hopes people notice and appreciate the officer and staff�s hard work that provides us with a safe and secure campus.

�I want people to know that all the police, security, fire marshals, emergency management bureau, dispatchers � they are all people, not just someone in a uniform. They are approachable and friendly. One of the things they always want to share with others is they are here to help and they are doing whatever it takes to keep you safe,� she said.

Walker�s journey took her on a very different path than she had originally imagined, leading her to her UH family as well as her own family. She was a dance major at Texas Tech when she married her husband her sophomore year of college. He enlisted in the Marine Corps and headed off to training as she stayed to finish her degree. The couple ended up in Scotland for three years before returning to the states.

Both from families with several siblings, she said they started talking about having children and decided it would make their bond and their family even better. The couple now has two daughters, Sara, 11, and Hazel, 9. She said the girls are �buddies� and have the typical characteristics of the big and little sister.

�Sara is the ultimate big sis, she has the entire package. She�s sweet and loving, kind and careful � I could just go on about the qualities she has that you want a big sister to have. And Hazel is everything a little sister should be � she�s always looking to Sara to see if she is going to give her the okay. She�s adventurous and happy and a go-gettter,� Walker said.

She said although she may miss dancing, she is glad that she left her craft while she was on top and has found much happiness throughout her journey to Houston and to her family.

�Robert and the girls are my whole world,� she said.