Student Spotlight
Sebastian Henao
Cullen Performance Hall student worker
By Richard Zagrzecki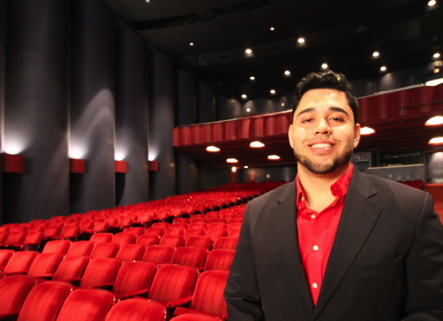 Sebastian Henao has learned to balance a lot of things.
As a petroleum engineering student at the University of Houston, he knows how to carve out ample time for his studies.
He works a part-time student worker position at Cullen Performance Hall.
He's involved with the Sigma Nu fraternity, including previously serving as the UH chapter president.
Perhaps most impressive of all, though, is his knack for being able to balance just about anything on his chin – whether it be mops, chairs or even a metal desk.
"It's something I taught myself to do when I was at home and really bored," the junior from Katy said as he picked up a nearby chair to demonstrate his talent. "As long as it is larger than 12 inches, I can balance it."
Needless to say, Henao rarely finds himself bored these days.
Five days a week, he can be found working four-hour shifts at Cullen Performance Hall, providing Theater Director Carrie Miller with much-needed support and assistance in the various aspects of running the venue.
His main area of expertise is ticket sales and making sure the box office is running smoothly. With that comes preparing shows for going on sale on Ticketmaster, which is currently the contracted vendor for ticket sales. In August, that will be switched over to a different ticketing company – Spectra – so he's been busy preparing for that switch.
On the day of a show, he arrives five to six hours in advance to prepare. That includes printing out all of the will-call tickets and putting them in envelopes. An hour before the show starts, he opens and staffs the box office.
He's held the position since last semester, when the operation of the historic venue switched over to UH staff after being operated through a contracted private company. Henao didn't have to spend much time learning the ins and outs of the job. That's because he already knew most of it – for two years he worked a full-time job in ticketing here at UH for the outside company. So the transition was a seamless one for him.
Henao hopes to work at Cullen Performance Hall until he graduates, which he anticipates will be in May 2018. He always knew he wanted to be a UH student when he was a student at Mayde Creek High School. His journey, though, started first at Lone Star College, where he attended classes while also working a full-time job at a bank in Houston's energy corridor.
While working at the bank, he met many customers who worked in the energy field – some of whom were petroleum engineers. It was that interaction that led him to decide he wanted to choose that career path. After two years at Lone Star College, he transferred to UH.
"I love the campus. I love the atmosphere here on campus and I love how diverse it is," he said.
Henao is a big fan of soccer and plays it a lot. He and his fraternity brothers play in an indoor soccer intramural league here on campus. He also is a member of an outdoor team that plays every Sunday.
He is originally from Colombia. He and his family moved to the United States when he was 12, first settling in Jacksonville, Florida, before eventually coming to Houston when he was in high school. He did not know English before coming to the U.S., but he picked it up quickly, thanks in part to television.
"It was a really fun experience learning English. Dora the Explorer was my best friend," he said. "Every single day I would get home and just watch cartoons."