Employee Spotlight
Danielle Steber
Cougar Card Office Customer Service Representative
By Jessica Mize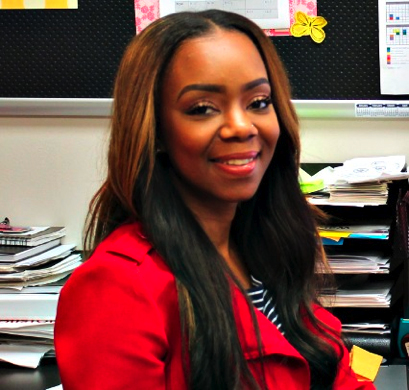 Danielle Steber is one of the first people new faculty, staff and students meet at the University of Houston.
As a customer service representative within UH's Cougar Card Office, Steber has the important job of creating and setting up individuals' Cougar Cards, which are UH's official ID card. Steber, however, will be the first to tell you that Cougar Cards are much more than just a piece of identification.
"The Cougar Card has everything," she said. "You need it to attend campus events, access University buildings and even print and eat at certain UH locations. It's really the key to your campus life."
Steber works to share that knowledge with new Cougars through day-to-day customer interactions in the office and at various outreach events, including new student conferences, new faculty orientation and the weekly new employee celebration.
"I love welcoming first-timers to the University," she said. "It's one of my favorite parts of my job."
Educating the campus community about the Cougar Card is just one part of Steber's job. In her role, the native Houstonian is also responsible for running meal plan reports and managing the student staff who work within the office.
Assisting University departments and organizations that have upcoming events, such as Finals Mania, that will require individuals to swipe their Cougar Card to attend is another big part of her job. Steber helps the groups reserve the proper equipment, teaches them how to use it and even runs follow-up reports to gather accurate attendance counts.
"The event planning and management part of my job has really evolved over time," she said.
An employee within the office for the last three years, Steber recently used her Cougar Card know-how to educate the staff at the new Cougar Card office at UH-Sugar Land.
Part of the training was a bit technical as she showed them how to work the Cougar Card system, but mostly she shared basic etiquette and customer services best practices she's acquired throughout her more than 10 years in the field.
Prior to her role within the Cougar Card office, Steber was a customer service representative for the University's Parking and Transportation Services Department for five years. She left that job to give birth to her daughter, her youngest of two children. Before that, she worked various retail jobs.
An introvert by nature, Steber has not let her shyness get in the way of excelling at her people-oriented career. Her work forces her out of her comfort zone and she loves it.
"Work around here is very fast-paced, especially during new student orientation season," she said. "I interact with strangers all day. Making small talk has become second nature."
Although she has her quiet moments, she describes herself as an open book who loves bonding with her coworkers and coordinating office teambuilding events like potlucks.
"I love my team," she said.
Steber looks forward to growing with the department in the years to come. An avid learner, she's successfully completed some of the leadership training courses offered by the University's Human Resources department and has plans to enroll in more soon. Receiving her first certificate of completion was a moment of pride for her.
"I love learning new things and testing my limits," she said.
When she's not busy working, the happily married Steber enjoys relaxing and spending time with her family.