PUBLIC ART COLLECTION
Second annual UH Public Art Day planned
By Richard Zagrzecki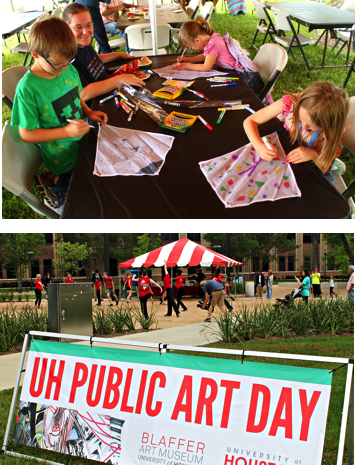 Public art tours, music, food and family-friendly art activities all will be part of the second annual Public Art Day at the University of Houston.
The event, which is being hosted by the UH Public Art Collection and Blaffer Art Museum, in collaboration with the Cynthia Woods Mitchell Center, will be Saturday, April 22, from noon to 3 p.m. Guests will arrive at the Blaffer Art Museum and activities will be centered in the adjacent Fine Arts Building courtyard.
Public art collection tours will take place every 30 minutes from 12:30 p.m. to 2 p.m. and will highlight some of the unique and diverse pieces that dot the campus. In addition, tours of the Blaffer Art Museum will be available.
Two art-making activities – printmaking and a collaborative two-dimensional project – will spark the imagination of participants as they draw connections between the visual arts experienced through the tours with text, language arts, writing and image to make their own artworks. Finished pieces may be displayed in the café area of the Blaffer Art Museum.
Live music and dance performances will occur throughout the event. There will also be a fun scavenger hunt focused on the public art collection that will include a drawing for a prize basket. Catered finger foods will be available to guests.
"This will be a fun and entertaining event that will introduce more people to the University of Houston's incredible public art collection," said Michael Guidry, curator of the UH Public Art Collection.
Guests are asked to RSVP in advance here so organizers know how many people to expect.