PUBLIC ART COLLECTION
Winner chosen in Art for Your Health Walks prize drawing
By Richard Zagrzecki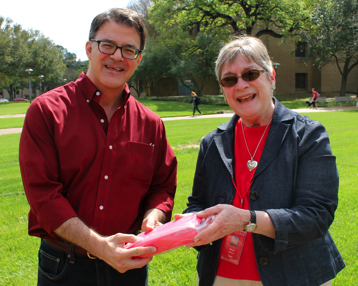 One lucky University of Houston employee is the owner of a brand new Fitbit for having participated in the weekly Art for Your Health Walks in the fall semester.
Mary Robson, an accountant in the Student Affairs and Enrollment Services Business Office, won the prize, which was presented to her by Court Stein, administrator of POWER UP Employee Wellness.
The art walks – a collaboration between the UH Public Art Collection, POWER UP Employee Wellness and the Blaffer Art Museum – were held once a week for seven weeks in November and December. The brisk walks included stops at various outdoor works of art.
Everyone who took part in at least six of the walks had their names entered into a drawing for the Fitbit. Robson was eligible for the drawing for having participated in all seven walks.
The walks are continuing in the spring semester and are held Fridays at noon. Click here to learn more about them.
For more information about the Public Art Collection, visit its Facebook page. For more information about other health initiatives at UH, visit www.uh.edu/human-resources/wellness.