Parking
Upcoming parking roadshows to highlight 2017-2018 changes
By Jessica Mize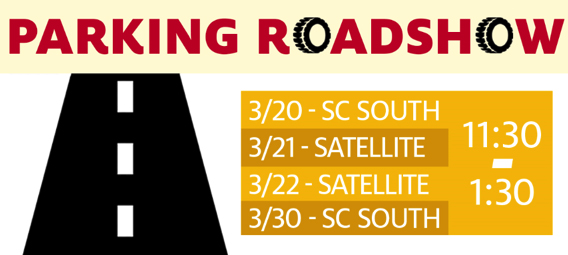 The Parking and Transportation Services Street Team will be out and about across campus in the coming weeks spreading awareness about departmental and program changes expected to take effect as early as the fall 2017 semester.
Everything from the newly approved parking permit rates to changing lot structures and classifications will be discussed at various parking roadshow events. The creation of the Remote Campus Permit and what it means for existing Economy parking will also be covered.
All roadshows will take place from 11:30 a.m. until 1:30 p.m. Specific dates and locations for the events are outlined below.
Monday, March 20 – Student Center South
Tuesday, March 21 – Student Center Satellite
Wednesday, March 22 – Student Center Satellite
Thursday, March 30 – Student Center South
Other hot topics attendees can expect to learn more about include UH Cougar Line changes, COAST commuter discounts and the new Evening/Weekend permit option.
"We're adjusting our programs and services to better serve the ever-changing campus community," said Bob Browand, director of Parking and Transportation Services. "Events like these are key to ensure we're doing all that we can to spread the word across the University about what's to come."
In addition to the roadshows, the department will feature thorough explanations of all of the coming year's changes during an info-series on its Word on the Street blog.