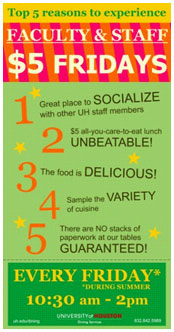 FACULTY/STAFF SPECIAL: $5 FRIDAY EVERY WEEK DURING SUMMER

As a special treat for the dedicated faculty and staff who brave the summer months on campus, UH Dining Services is expanding its $5 Friday event schedule to include every Friday from June 3 to Aug. 5.

This means that faculty and staff will be able to dine in the Fresh Food Company at Moody Towers for only $5 between 10:30 a.m. and 2:00 p.m. every Friday.

Once the fall semester begins, the $5 Fridays will return to its normal schedule. The first fall event will take place Aug. 26 and will continue to occur on the last Friday of every month for the rest of the semester.

For more information about UH Dining Services, visit www.uh.edu/dining.