Sustainability
Textile recycling effort during move-out proves successful
By Richard Zagrzecki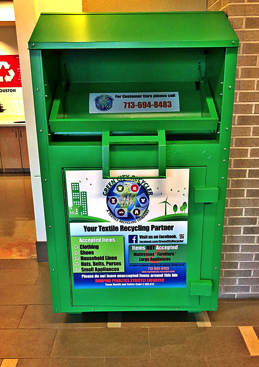 A partnership with a local eco-friendly company that recycles used clothing and textiles resulted in 1,140 pounds of recyclable materials being collected during residential move-out at the end of the spring semester.
The University of Houston Office of Sustainability worked with Student Housing and Residential Life to allow Green City Recycler to place donation pods in the lobby areas of three on-campus residential communities – Cougar Place, Moody Towers and Bayou Oaks – during move-out week.
The company collects used clothing, shoes and other household items made from textiles – including books, linens and backpacks – and brings the material back to its facility to determine what items can be resold, reused or recycled.
The Office of Sustainability hopes to continue the partnership with the company following the success of this first collaboration.
"Move-out can be a very stressful time for students who have acquired many items during their stay on campus. This program provided an opportunity for students to divert textile waste from landfills through a partnership with a local eco-friendly company," said Michael Mendoza, manager for the UH Office of Sustainability. "We hope to provide more opportunities for students to utilize these types of services on campus and actively recycle."
For more information about Green City Recycler, visit its website. To learn more about the Office of Sustainability and its campus initiatives, go to its website or follow it on Facebook and Twitter.