STUDENT Spotlight
Joel DeLeon
EHLS student worker
By Richard Zagrzecki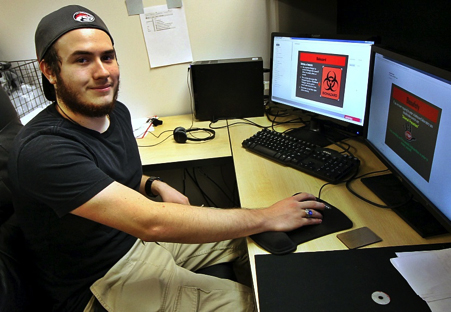 University of Houston student Joel DeLeon doesn't have to worry about getting caught in traffic and missing class.
That's because he grew up on the outskirts of downtown, not far from campus. So when he hops in his car, it takes him six minutes to get here.
"In the morning, I wake up about 30 minutes before my class starts. I get ready and then I don't get on the freeway at all. I take the back streets and get to campus in no time," said DeLeon, a senior mechanical engineering major.
He needs all the extra time he can get. Besides attending classes, he keeps busy working two part-time jobs. One of them is as a student worker in Environmental Health and Life Safety, where he works for Safety Manager/Biological Safety Officer Lisa Benford and Safety Specialist Reggie Greff.
The duties and projects assigned to him and the other EHLS student workers vary. He has assisted in inspecting safety showers and eye washes in labs all across campus. He has also replaced signage on all the doors going in and out of the labs.
EHLS is transitioning to a new computer system, and that has led to plenty of work for DeLeon. He helped collect data on the approximately 7,000 fire extinguishers on campus and put it all into one Excel document so that it could be inputted into the new system.
The work keeps him busy, but he enjoys it. He plans to continue working for EHLS this upcoming academic year – his last as an undergraduate student. After that, though, he plans to continue his education at UH by seeking master's degrees in aerospace and mechanical engineering.
In the long-term, he would love to get a job working for Boeing in research and development at its Everett Factory in Everett, Washington. The airplane manufacturing facility employs more than 30,000 people.
"I want to work on airplanes. I have a big fascination with them," DeLeon said.
He doesn't have a pilot's license, but would like to get one at some point in the future when he has the time to dedicate to it.
"I do have it on my list of things to do," he said.
DeLeon is the first person in his family to attend UH. After graduating from Eastwood Academy, a charter school in the Houston Independent School District, he knew UH was where he would go. Not only was it close to home, but he liked its engineering program.
In his time here, he has been involved with the UH chapter of AIAA – the American Institute for Astronautics and Aeronautics. Last year, members designed a model airplane measuring 3 feet wide and 2 and a half feet long as part of an international competition that took place in Kansas City.
One of the things he likes the most about his time at UH is the friendships he has made with other engineering students.
"We hang out together outside of class. We study on the weekends together. We all help each other," he said. "We are very tight-knit, and that is one of the things that stands out the most for me. It's been great."