Sustainability
Enjoy summer fragrances from the garden
By Urban Harvest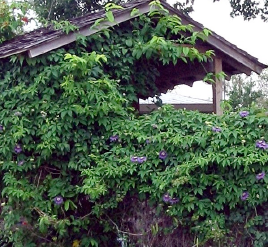 Successful gardens should stimulate all the senses. We use flowers of every color in the rainbow to draw us into the garden visually, gurgling fountains and rustling leaves to provide soothing sounds, fresh juicy fruit and crunchy vegetables to treat our taste buds, and cool, soft grass to soothe our feet or crunchy gravel paths to motivate them. But, fragrance is an often a forgotten element in the garden.
Living in one of the nation's largest cities the sense of smell should be a high priority in the garden, especially during summer when the heat magnifies the not so welcome odors of trash and traffic. Fragrance in the garden counters much of the big city bad air syndrome.
Use aromatic plants in areas you frequently use such as pathways and outdoor living areas. Fragrant spring, fall and winter bloomers planted under windows allow fresh scents to drift indoors when windows are open to cooler temperatures. Surfaces that reflect a lot of heat, such as a long concrete driveway or the southern facing wall will intensify a flower's fragrance.
Though I like fragrant plants all over the garden, prevailing winds may impact where you want to plant. Select southeast locations for warm season bloomers so that prevailing winds from that direction will carry the fragrance toward you. In the cool season, wind directions generally reverse.
Mild winters allow many plants in area gardens to bloom seemingly non-stop, which is one of the reasons I am willing to tolerate Houston summer temps. However, I do like plants that provide seasonal signals. For example, I know spring has arrived when I smell Wisteria, Mountain Laurel and Mexican Plum. The fragrance of Sweet Autumn Clematis and Elaeagnus lets me know I've made it through another summer.
There are plants that don't rely on flowers to provide fragrance. Aromatic foliage often requires a touch to release the fragrance. These plants are best planted along pathways where brushing against them is likely. I enjoy the aggressive growth habit of Copper Canyon Daisy as it requires frequent pruning to be kept in check and the clippings bring a fresh garden scent indoors.
Plant fragrances vary dramatically. Not all may be to your liking. Some are strong or delicate, fruity or spicy, earthy or fresh. Hopefully, you may find something you like in the list below.
Trees
Almond Verbena (Aloysia virgata) –throughout the warm season
Citrus (Citrus spp.) –spring and summer
Mexican Clethra (Clethra pringelii) – spring and summer
Mexican plum (Prunus mexicana) – spring
Southern Magnolia (Magnolia grandiflora) – summer
Texas Mountain Laurel (Sophora secundiflora) – spring
Shrubs
Antique Roses (Rosa spp.) – depending on the rose, there's something for every season and not all are fragrant
Banana Shrub (Michelia figo) – spring
Butterfly Bush (Buddelia davidii) – summer and fall
Elaeagnus (Elaeagnus pungens) – fall
Gardenia (Gardenia jasminoides) – summer
Sweet Olive (Osmanthus fragrans) – throughout the year in response to wet/dry cycles
Vines
Akebia (Akebia quinata) – spring
Passion Vine (Passiflora incarnata) –almost continuously when the weather is warm
Rangoon Creeper (Quisqualis indica) – summer and fall
Sweet Autumn Clematis (Clematis paniculata) - fall
Wisteria (Wisteria chinensis) – spring
Foliage
Cardamom Ginger (Elettaria cardmonum)
Copper Canyon Daisy (Tagetes lemmonii)
Lemon Grass (Cymbopogon flexuosus)
Rosemary (Rosmarinus officinalis)
Southern Wax Myrtle (Myrica cerifera)
This column is produced by Urban Harvest. Learn about gardening classes, community gardens and orchards, farmers markets and more at www.urbanharvest.org. Suzy Fischer is a registered Landscape Architect and principal of Fischer Schalles, a landscape design/build firm.