Student Spotlight
Jaylon Pinkney
Student worker in Administration and Finance
By Richard Zagrzecki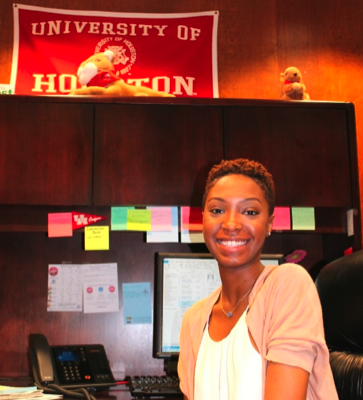 As Jaylon Pinkney enjoys the summer break, she has big plans when the fall semester kicks off in a couple of months.
One of the things that Pinkney, a public health major, is excited about for the upcoming school year is being involved in the UH chapter of Collegiate 100 women. She was inducted into the chapter this past spring and is excited to execute the organization's mission that focuses on nurturing and supporting young men and women of minority communities. The chapter of Collegiate 100 Women is credited for being the largest organization on campus composed of black women whose primary focus is benefiting the community.
"Everyone needs a mentor, and it helps to have someone in your corner who can always provide you with reassurance. It feels good to offer guidance for these young ladies," she said.
Along with Collegiate 100, she's also involved in the Metropolitan Volunteer Program, the National Society of Collegiate Scholars and Alpha Eta Alpha, a pre-health organization. She also competed in the 32nd annual Miss Black and Gold Scholarship Pageant on the UH campus.
Pinkney will also spend about 20 hours a week assisting the Administration and Finance team in the E. Cullen building. Under the supervision of executive administrative assistant Nancy Nguyen, Pinkney has grown professionally and taken on responsibilities for projects that have enabled her to flourish in any professional environment. Being a part of the team that supports the vice chancellor/vice president of Administration and Finance has allowed her to develop her interpersonal skills as well as her ability to guide.
You may also see her at the information desk on the first floor of the building assisting visitors and employees with any questions they may have.
Pinkney was born in Lake Charles, La., but moved to Texas at age 3. She attended Westfield High School and Carl Wunsche Sr. High School, a college prep academy in the Spring Independent School District, allowing her to graduate with two diplomas. She is the first person in her family to attend UH and also the first to attend a four-year university.
She didn't know much about UH before becoming a student here and was not sure if she wanted to enroll. But after her freshman year, she began getting more involved on campus. As a result of her becoming more integrated into the University, she's now thoroughly enjoying her college experience and is glad she chose UH.
"I really love it here," she said.
If she had to pick one thing she likes the most about UH, it is the professional and also personal connections she has built. She also feels enlightened by all the knowledge she is accruing.
After obtaining her bachelor's degree, Pinkney will go on to graduate school where she will become more grounded in the field of epidemiology.
"I would like to make an impact on the world and the people that are in it," she said. "I figure a great way to do that is to focus on the diseases and illnesses that effect mass populations, in not just America, but also the world."