Employee Spotlight
Emily Fahner
UH Dining marketing manager
By Jessica Mize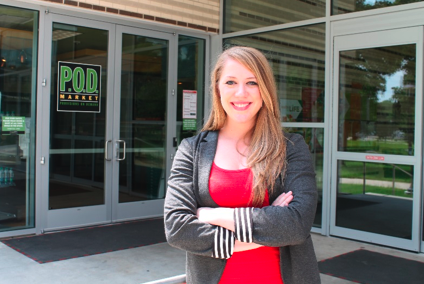 Just two short years ago, Emily Fahner, marketing manager for UH Dining Services, not only had a different job title, the young professional was also living and working in a completely different state.
Originally from Hazlehurst, Miss., Fahner made the bold move to come to Texas when she was offered a job to work as a fundraising coordinator for the Muscular Dystrophy Association. To this day, she's happy with the decision she made, even though it meant saying goodbye to her native Mississippi and all the friends and family she has there.
"Taking a leap of faith to move to Houston, where I knew next to no one, is still one of my proudest moments," said Fahner. "It was hard, but here I am, with the job of my dreams. It's an exciting time."
Fahner, who's been with UH Dining since April, got her first taste of working for a university's dining team when she was a student at Mississippi State University. While pursuing her degree in public relations, she served as a student worker for the school's dining department and was brought on full time once she graduated. That experience made accepting her current position as marketing manager feel a lot like coming home.
"I had a desire to get back to my roots," said the self-proclaimed macaroni and cheese connoisseur. "When I saw the position was available, I knew I had to apply. I got my start with Aramark."
Just over a month into her new role, Fahner has no problems staying busy. Responsible for all of the marketing and promotions for the dining and catering programs on campus, including the 29 retail locations like Chick-fil-A and McDonald's, she and her team are always working to spread the word about the UH community's food options. From on-site events to social media contests, they do a little bit of everything.
"A typical work day for me involves working closely with our marketing coordinator and graphic designer on marketing and communications projects such as press releases, web updates and more," said Fahner. "I also track meal plan sales and coordinate with our various dining location managers to ensure their areas are getting enough publicity."
But Fahner's job doesn't stop there. In addition to promoting dining services for the UH main campus, she also oversees marketing and communications for dining programs at UH Victoria, UH Downtown and UH Clear Lake.
Bringing over three years of experience in marketing, communications and sales to the table, Fahner has two main goals for herself in this position – increase on-campus awareness of the dining program and continue to grow and expand offerings and service to better meet everyone's needs.
"At the end of the day, it is our mission to provide a quality food service program for students, faculty and staff to enjoy during their time at UH," she said. "We strive for this every day and I look forward to helping better serve our ever-changing campus community."