Public Safety
UH participates in Metro light rail full-scale exercise
By Ginger Walker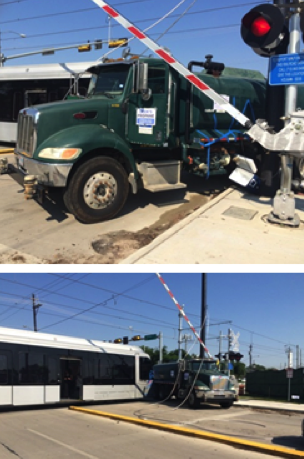 The University of Houston participated in a full-scale exercise sponsored by the Metropolitan Transit Authority of Harris County on May 2.
Such an exercise was required for Metro before its new light rail line went live on May 23.
Participants in the exercise included the Houston Police Department, Houston Fire Department, Metro, University of Houston and CenterPoint Energy.
Exercise organizers simulated an accident between a light rail train and a liquefied propane gas truck at the intersection of Holman and Scott Street. The scenario included that the accident took place during a UH football game at TDECU Stadium.
UH participants included the Police Department, Office of Emergency Management, Fire Marshal's Office, UH Sports and Entertainment, Advantage EMS, 5-Star Security and UH Athletics. Like a traditional UH home football game, representatives from each of these key areas staffed the stadium command post to manage the response and its impacts to the event.
Spectators were also staged in the stands of TDECU Stadium, giving the command post an opportunity to work through the scenario that required an evacuation of the stadium.
Not only was the exercise a good opportunity for first responders to practice, it also helped test and improve several stadium and campus emergency response plans.
"This exercise provided the unique opportunity for UH to consider and respond to a Metro light rail collision, a hazardous material incident and the execution of a stadium evacuation said UH Emergency Management Director Kelly Boysen, who also served as the evaluator for the exercise. "Training and exercises are vital parts of the emergency preparedness process in order to practice, test and improve the emergency plans and procedures that have been developed."