Dining
Catering on Cullen ready for summer weddings
By Kimberly Cooper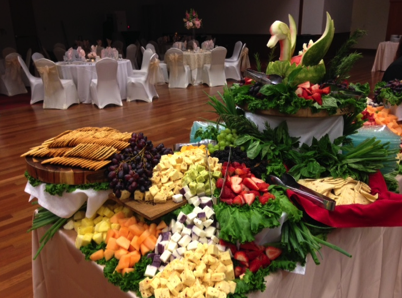 Wedding bells are ringing as summer approaches and at Catering on Cullen, they are ready to roll out the linen, china, flowers and custom menus to make tying the knot magical.
Catering on Cullen specializes in custom menus for any event whether it's for a group meeting, President Khator's weekly lunches or a wedding.
"We are a preferred catering provider for the campus," said Shannon Church, director of catering at Catering on Cullen. "We specialize in creating custom wedding menus that fit the needs of the bride and groom and we offer a full bar menu for your event."
While catering to the UH community, Catering on Cullen has enjoyed many wedding receptions at the Student Center where the team caters to every wish a couple has for their big day.
"When a couple comes to us, I sit down and we discuss what they are looking for in a theme and menu," said Church. "Once we establish a menu, we will host a tasting where the couple can taste three different menus options and decide what they would like to enjoy on their special day."
Church described a recent wedding reception menu at the Student Center.
"We served chicken with garlic cream sauce, cheddar bacon mashed potatoes, balsamic grilled vegetables and a farmer's market salad," said Church. "Our farmer's market salad features mandarin oranges, dried cranberries and a scratch made pineapple vinaigrette on a bed of spring mix and romaine lettuce."
During the reception, the catering team experienced family fun and special traditions.
"As we are cutting the wedding cake, the entire room started marching around the cake tables and stood in a line," said Church. "We were passing plates of cake between people while they were marching and dancing and that was really fun."
Catering on Cullen can create any type of event a happy couple desires from a full cocktail hour with hor d'oeuvres to a sit down meal with custom carved watermelon swans.
"Our chef created custom carved watermelon swans for cocktail hour during a reception and they were quite the centerpiece to our fruit table," said Church.
Catering on Cullen offers one-stop wedding reception shopping to make tying the knot elegant and stress-free.
"My favorite part of a wedding is when it all comes together and we strive to deliver the best experience every single time," said Church.