Student Spotlight
Andreina Garay
Facilities Management Student Worker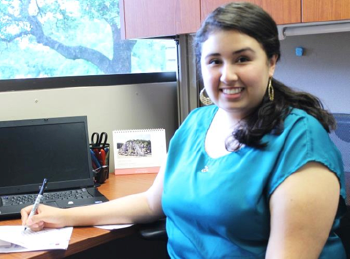 When Andreina Garay first started attending the University of Houston, it was a much different experience for her.
For one thing, there were a lot of students. UH has an enrollment of nearly 40,000. Garay's graduating class at the nearby Eastwood Academy was just 59. Then there was the diversity. She grew up in a neighborhood that was overwhelmingly Hispanic. UH is one of the most diverse campuses in the entire country.
"When I got here, I was making friends who were Asian, who were Indian, who were different religions and different ethnicities," she said.
Garay is a senior who will be graduating in December with a double major in English literature and communications/media production. For the past year, she has been a student worker in Facilities Management, assisting Communications Manager Jacquie Vargas with communication-related tasks and projects, such as writing news releases, taking photographs and updating the department's Facebook and Twitter accounts. She also is working on updating the website content for Plant Operations and manages its phone directory contacts to make sure they are updated monthly.
She said she loves her job.
"There are more than 500 employees in this department alone who go out and take care of students, faculty and staff by maintaining campus needs and trying their best to make sure everything is running smoothly," she said. "It's great to be part of a team that is doing so much for UH on a daily basis to make sure students can have a great university experience."
This is not her first student worker position. In fact, she's had one ever since her first year at UH. She started in the mailroom in the housing office, then worked as a dispatcher in Facilities Management before landing her current position.
Garay was born in Waukegan, Ill., but moved to Houston with her family at the age of 3. Although she has cousins who have attended UH, she is the first person in her immediate family to go to school here. She fell in love with it the moment she stepped on campus.
"My high school was so small. So when I got here I loved the band, I loved the red, and I loved everything about it," she said.
She is actively involved with an organization on campus called Revolutionary Ministries and serves as its president. They have Bible studies every week and focus on campus ministry to students.
"It feels really good when a student joins our Bible study and tell us they are really glad they found us because they were losing their faith and we helped to turn that around," she said.