Public Safety
NIMS workshop presented to A&F leadership group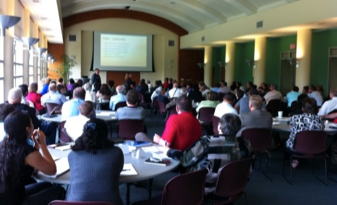 The University of Houston Office of Emergency Management presented a National Incident Management System workshop to the Administration & Finance Leadership on June 3.
The workshop was facilitated by Bill Wheeler, the deputy emergency management coordinator for Harris County Homeland Security and Emergency Management. Utilizing his experience, he delivered a productive workshop for UH participants with his characteristic enthusiasm.
The purpose of the workshop was to prepare the University for contingency operations and to provide a rudimentary exposure to NIMS.
Wheeler presented emergency scenarios and tasked the group with providing solutions. The group's participation via open discussion and small team organization led to effective solutions and problem solving. Working within the NIMS framework ensured efficiency and effectiveness among various departments.
Leadership group members were expected to complete FEMA's basic NIMS course ICS-100, an Introduction to Incident Command System, prior to attending the workshop. ICS-100 gave them the foundation to incorporate NIMS components into their emergency preparedness efforts.