PUBLIC ART COLLECTION
Focus on campus art: Sculpture creates dizzying experience
By Richard Zagrzecki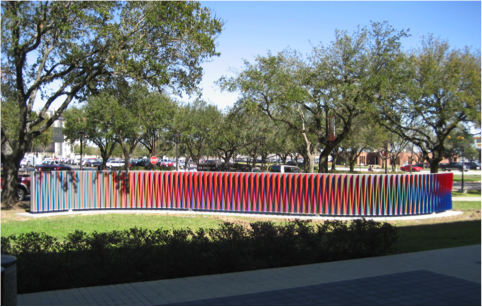 The serpentine-like piece of art sitting near the Welcome Center Parking Garage almost looks like special 3-D glasses are needed to view it.
That's because the sculpture's multi-colored pieces, vertical striping and alternating blade shapes creates a dizzying optical effect that changes in appearance, depending on the angle and direction in which it is being viewed.
The piece, titled "Double Physichromie," is the brainchild of artist Carlos Cruz-Diez. It was installed in 2009.
Michael Guidry, curator for the UH Public Art Collection, said the sculpture is meant to be seen in motion and from different angles.
"Although standing still in front of it on either side, one can appreciate the complexity of the color combinations and forms," he said. "It is a remarkable piece of art."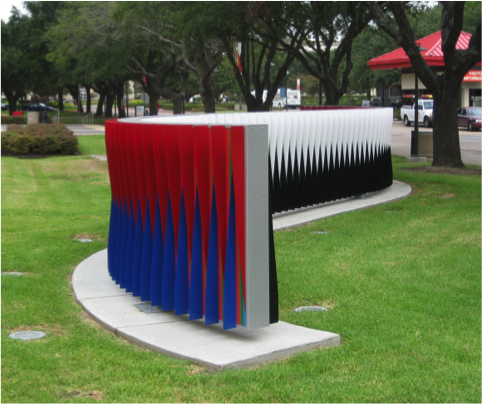 The sculpture is 5 feet tall and 65 feet long and comprises more than 2,000 aluminum and steel parts that were made locally by Blumenthal Sheet Metal and painted by J.E. Titus Company using detailed drawings provided by Cruz-Diez.
Cruz-Diez is a world-renowned artist who hails from Venezuela, but has lived and worked in Paris since 1960. He has had numerous public commissions world-wide, but the UH piece was his first public sculpture commission in the United States.
"Double Physichromie" is situated on the north side of the Welcome Center Parking Garage just west of the intersection of Entrance 1/University Drive and Calhoun. It is in a highly visible location for both motorists and pedestrians to enjoy.