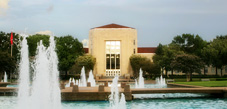 Student Spotlight � Cougar Mover crew leaders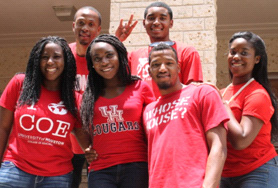 Close to 8,000 students will be living on campus this coming fall at the University of Houston, making for an unprecedented move-in experience.

But a crew of six is working hard this summer to ensure the process runs as smooth as possible.

Chantel Smith, Gary Flemings, Ray Green, Amy Igbokwe, Trazail Tucker and Elizabeth Ayoko comprise the Cougar Mover crew leaders. Each has been assigned a residential facility and is in charge of planning and organizing the move-in experience for each of them. That includes organizing the army of volunteers � 500 in all � needed to make the event a success.

What makes this year�s move-in a special one is the sheer number of students. There will be roughly 2,000 more young women and men living on campus this fall than the previous academic year. That�s because the university is opening up two new facilities � Cougar Place and Cougar Village II � and is taking over management of the Bayou Oaks apartment community.

Smith, a junior business marketing major from Houston, has been assigned Cougar Place. She looks forward to the challenge.

�There�s way too much work for one or two people to do. They hired all of us to give each facility its own unique experience,� she said.

Flemings, a sophomore in the College of Technology is from College Station. He has been assigned Calhoun Lofts. The Quadrangle is being handled by Igbokwe, a sophomore biology major from Mesquite, while Cougar Village I is being organized by Tucker, a junior supply chain major from Fort Worth. Moody Towers is assigned to Ayoko, a health and pre-pharmacy major from Berkeley, Calif. Smith, Igbokwe and Ayoko are teaming up to handle Bayou Oaks.

Green, a senior economics major from Cedar Hill near Dallas, is in charge of move-in at Cougar Village II.

�We�re creating a customer-service aspect to the whole process,� he said. �So we are trying to set up that experience and get as many volunteers to help.�

More volunteers are needed to help with move-in, which takes place over three days: Aug. 22-24. To sign up, go here.