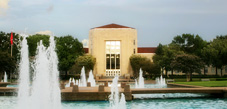 Be aware of heavy construction traffic on Cullen and Holman

Over the next month, the football stadium construction project will be receiving large structural steel and precast concrete components for the new facility.

Trucks will enter the construction site via the southbound lanes of Cullen and onto Holman intermittently until mid-August. Manhattan Construction will post flaggers at the Cullen/Holman intersection as well as at the Holman/Scott intersection to guide traffic.

Please use extreme caution when navigating through these areas as the trucks will need to block all lanes when turning. Please refer to the map for affected areas.

For any questions related to this project, contact Senior Project Manager Fredrick Maddox at fmaddox@Central.UH.EDU or 713-743-1245. For more construction project information, please visit the Facilities Planning and Construction website at www.uh.edu/plantops/departments/fpc/ or visit the Facebook page at www.facebook.com/UniversityOfHoustonPlantOperations.