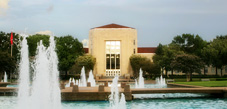 Open enrollment period about to kick off

Annual benefits enrollment for the University of Houston will be July 22 through Aug. 2. Faculty and staff will have two weeks to make enrollment changes.

This month, faculty and staff will receive their annual enrollment packet, which includes information on benefits choices. As in past years, faculty and staff will have a couple ways to make benefit changes, including:

� signing in to their online account on the ERS website (www.ers.state.tx.us)
� calling ERS at 877-275-4377

Call ERS or the HR Service Center at 713-743-3988 for assistance logging in or resetting a password.