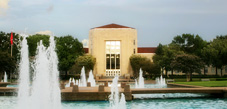 Catering on Cullen offers special backyard barbecue menu in July
Enjoy savory barbecue beef brisket or juicy rotisserie chicken at an affordable price in July with Catering on Cullen�s Backyard BBQ special.

Catering on Cullen is a branch of UH Dining Services that offers convenient catering on campus, including anything from coffee breaks to three-course meals. This special barbecue menu is only available in July, so be sure to place your order soon so that you don�t miss out.

To learn more about Catering on Cullen, visit www.cateringoncullen.com.

For more information, contact Carla DeAlejandro at 832-842-5998 or
dealejandro-carla@aramark.com.

For more information about UH Dining Services, visit www.uh.edu/dining.