CAMPUS SAFETY
New staff member joins Office of Emergency Management
By Cindy Granier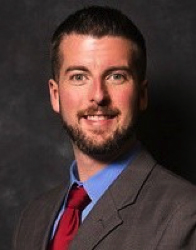 Brian Hall has joined the University of Houston's Office of Emergency Management as an emergency management specialist.
He originally began working at UH in 2013 in Student Housing and Residential Life. While working in that department, he was asked numerous times to work on tasks that focused on emergency management plans and response.
After his work as the housing department's ride-out team lead during Hurricane Harvey, he discovered his passion for emergency management.
His new role as an emergency management specialist focuses on maintaining the campus emergency plans, assisting buildings and departments with developing their own emergency plan, as well as conducting various emergency preparedness trainings and drills.
"Brian has been a great partner to the Office of Emergency Management over the years and took on many responsibilities in improving SHRL's emergency plans," Emergency Management Director Kelly Boysen said. "Brian was also instrumental during the response to Hurricane Harvey and in coordinating with the University's Emergency Operations Center. We are thrilled to have him join our team."