Employee Spotlight
Will Messer
Postal supervisor
By Jessica Mize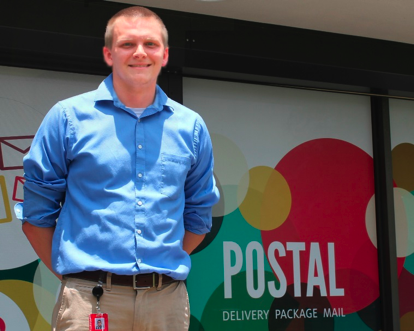 When Will Messer tells people where he went to college, most individuals picture sandy beaches and palm trees; however, they couldn't be more wrong.
"I attended Miami University – the one in Ohio," said Messer, the new postal supervisor with UH's Printing and Postal Department. "We like to call that the real one."
In fact, Messer called the Buckeye state home until just about a year ago. Born and raised in a small town just north of Cincinnati, he made the move to Houston when his girlfriend, now fiancee, accepted a teaching position in a nearby school district.
Considering that they have no family in the area and Messer would have to search for full-time employment, moving was a bold decision, but the timing couldn't have been better. Within months of getting settled, the opening for his current position was posted and he applied.
With six years of experience in the university mail services industry, Messer felt like he was a natural choice – obviously the hiring committee agreed.
He hit the ground running when he joined the team in April and hasn't stopped yet.
"My responsibilities in this role are to oversee the majority of the day-to-day operations of UH's postal services," said Messer. "This includes helping locate and solve problems that arise with faculty, staff and student mail and packages, all while ensuring we provide the campus with the best customer service possible."
In addition to his general day-to-day duties, Messer has already found himself immersed in a campuswide project that involves setting up new mail routes that will follow the University districts.
"This has been a fun project," he said. "With being new to the University, it has helped me better learn the campus."
Ambitious and eager to make a difference during his time with UH, the young professional has already set some goals for himself in this role.
"I'd like to improve our services and make our office even more efficient than it is today," said Messer. "We are constantly evolving. With more people ordering things online now, we just need to work to catch up to the curve, and eventually get in front of it."
Messer, who seems to have a firm grasp of the mail services industry, surprisingly almost pursued a completely different career path. In college, he studied and earned a bachelor's degree in kinesiology and health.
"My focus was sports studies and I minored in management and leadership, as well as coaching," he said.
However, after graduation and a brief stint with the Cleveland Indians as a concessions supervisor, Messer found he didn't enjoy working in the sports industry like he thought and hoped he would. He's happy he made the choice to return to postal services
"I chose this line of business because I really enjoyed it while I was in college," he said. "In this industry, you always have to be on your toes and willing to adapt to the next issue or problem that arises."
Messer, who's taken to the Texas heat better than most, has shown he's adaptable not only at work, but also in his personal life.
"I love Texas," he said. "It's a lot warmer than Ohio but I love it."