Student Spotlight
Lupe Orozco and Margarita Reza
Garden assistants
By Richard Zagrzecki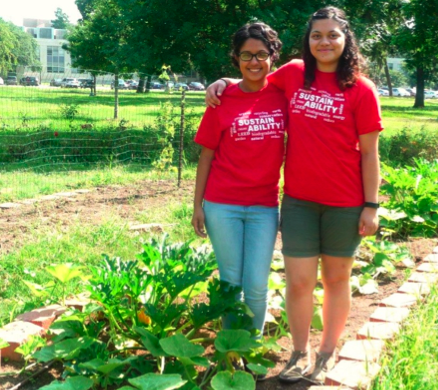 Lupe Orozco and Margarita Reza have been best friends for as long as they can remember.
The pair met when they were 5 years old. They attended elementary school, middle school and high school together. They both decided to pursue degrees at the University of Houston and often carpool together to campus. They both became officers in the Horticulture Society at UH.
So it only seemed natural that they were both hired last month as garden assistants by the Office of Sustainability.
For most of the summer, however, Orozco has been tending to the campus community garden near Cougar Woods Dining Hall by herself. That's because Reza is in California taking part in an internship with the U.S. Geological Survey in the Mojave Desert, studying and researching two endangered species.
Orozco, a senior majoring in biology and anthropology, is keeping busy in the garden, which grows produce that is donated to area food pantries, including the Manna House in the Third Ward not far from campus. The heavy rains that have drenched Southeast Texas over the past couple of months has the garden thriving, so she's been harvesting the various vegetables and pulling out all the weeds that are popping up.
Although she and Reza are new to their positions, they both have well-defined goals they would like to accomplish this coming semester. For Orozco, that includes getting the word out to the student community about what the garden is and what it does.
"I just really want UH and the students here to care more about the environment and sustainability. I feel the campus community garden can at least help introduce them to that," she said.
Reza, who is majoring in environmental science, wants to get the composting bin in the garden working at its maximum potential. She also wants to get the garden growing as well as it can so that it can provide as much produce as possible to the local food pantries.
Orozco, who is the first person in her family to attend UH, said the University's diverse student population is impressive and one of the things she cherishes most.
"Coming here I met people from different religions, different ethnicities and different countries, and it was really cool to get to know these different things," she said.
Reza feels the same way.
"I really like that there is a lot of diversity in the student body. And it is pretty friendly. It is very relaxed," she said.