Employee Spotlight
John Rosenquist
UH Bookstore assistant manager
By Jessica Mize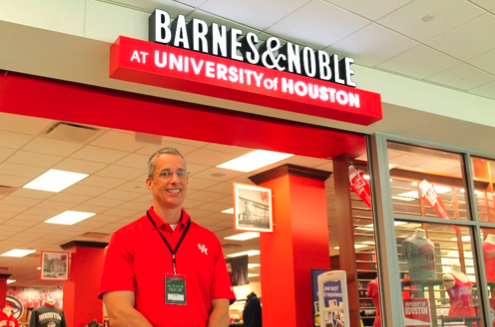 Take one walk around campus during the months of June and July and it might seem like things at the University of Houston have slowed down for a bit.
Sidewalks are no longer busy thoroughfares full of hurried students and whirring golf carts, and parking lots sit half-full all day. However, the silence is a bit deceiving, as staff members like John Rosenquist, assistant general manager of Barnes & Noble at University of Houston, the school's on-campus bookstore, are busier than ever.
"In addition to ensuring we are getting the shelves stocked and ready for the fall semester, we are also busy with the student orientations that are taking place all summer," said the born and bred Houstonian. "We present information about our services and offerings to not only the students who attend each session, but their parents as well."
Hired during the middle of the spring semester, Rosenquist, a UH alum, brings over 22 years of retail management experience to the table. His original career plan, however, was to work in the restaurant industry. As a young college student, Rosenquist, who pursued and now holds a bachelor's degree in hotel and restaurant management, worked in the restaurant industry for five years before deciding he was ready for a change of pace.
"When I was younger, the life of a restaurant manager seemed great, and it really was for a while," he said. "I just got tired of the late nights and wanted to be home before 2 a.m. for a change. So I shifted gears and went into retail management."
Two different stores and several years later, Rosenquist now finds himself commuting to the University of Houston every day. His primary responsibility is to assist with and help oversee the daily operations of the bookstore. Most of the time he can be found helping faculty and students with textbook questions, concerns and requests; however, it is not uncommon for him to put on a different hat and assist with campus happenings such as commencement and sporting events when needed.
"One of the things I love about my job is that it's a little different every day," said Rosenquist. "I juggle a bunch of different tasks. One day student concerns could be my priority, while the next I might be solely focused on faculty members; you just never know."
When he's not busy helping people on campus, Rosenquist, a father of two, likes to unwind in two ways – by riding his mountain bike and catching up with loved ones.
"I enjoy spending quality time with my family and I have a passion for tackling local mountain bike trails," he said.