Update provided on current campus capital construction
University Center
Completed in January of this year, the first phase of the UC Transformation project includes a new two-story north addition for student organizations, student government and other various campus services. Also, a new addition to the east side of the existing UC will house new central kitchen facilities, a new 450-seat theater, student lounge areas and meeting facilities.  The first phase also included extensive renovations to the existing UC which include new and improved food service venues such as Starbucks, McDonald's, Panda Express and Chick-Fil-A as well as a newly relocated two-level University Bookstore and a refreshed and expanded games room.

Beginning immediately, the second phase of the UC Transformation project will include additional renovations to the remaining existing UC spaces including a new West Lounge, new retail spaces, newly renovated administrative facilities, meeting spaces and a refresh and renovation to the 2nd level Houston Room. Two second-level pedestrian bridges will connect UC South to the new UC North building and a new plaza will be created at the first level for student events such as pep rallies, concerts and public speakers and will be completed in January 2015.

Stadium
Robertson Stadium was originally built in 1942 as a joint project between the Works Progress Administration and HISD. The original seating capacity was 14,500 and the playing field was oriented north/south. Robertson Stadium underwent several additions and renovations through the years but on Dec. 3, 2012, the demolition of Robertson Stadium marked the beginning of construction on the new University of Houston football stadium.

The new stadium will seat a minimum of 40,000 and is oriented east/west to align with the adjacent buildings and the surrounding campus circulation. The east/west orientation allows the stadium design to open a view corridor at the northeast corner of the stadium to downtown Houston, reminding all visitors that UH is "THE" University of Houston.

The playing surface will be a state-of the-art synthetic turf designed to host a multitude of events from high school football games, band competitions/practice to intramural events. With more than 40,000 seats, the stadium will feature approximately 5,000 premium seats including 766 armchair-style padded club seats, 2,778 armchair seats and 1,210 benches with backs.

The stadium will have 210,000 square feet of air-conditioned space that will include club facilities, 26 suites, press box facilities, locker rooms, meeting rooms, concessions, central commissary, and a UH Athletics Ticket Office. The stylish club area will be the ultimate Houston football experience with 12,400 square feet of multi-purpose club area overlooking the playing field. Fans with access to the club area will enjoy upscale food and drinks while receiving first-class hospitality. The stadium will also feature 34 loge boxes located throughout the stadium.

The Bert F. Winston Band and Performance Center located at the east side of the stadium facing Cullen Blvd. will house the Spirit of Houston Band recital halls and classroom spaces, as well as a gallery/multi-purpose area.

The elevated stands are designed to be expanded in the future, while still preserving views
to downtown Houston. The new stadium has been designed using green/sustainable
principles and has been planned for future expansion to 60,000 seats.

The stadium is scheduled for completion in the summer of 2014 with the first game in the new University of Houston football stadium on August 31, 2014.
UH Energy Research Park Building 1A
ERP Building 1A construction includes demolition to structure and 27,500 square feet build-back to be used as open office swing space for the ERP campus and the UH main campus and will be complete in December 2014.
UH Energy Research Park Building 4 - NCALM Suite
ERP Building 4 - NCALM construction includes build out of three electronics labs, office space and grad student facilities for the National Center for Airborne Laser Mapping and will be complete in April 2014.
Health and Biomedical Sciences Center Level 4

Construction started in November 2013 on half of the fourth floor. The build out is of offices and clinical space for Dr. Jack Fletcher. Construction will be complete in February 2014.

Health and Biomedical Sciences Center Level 5
The walls are completed, the ceilings are completed in most areas and paint and other interior finishes are ongoing. This is the build out of the fifth floor shell space for the Division of Research and Animal care.

Multidisciplinary Research and Engineering Building
Design is currently underway on the new Multidisciplinary Research and Engineering Building, which will serve many key functions for both the Division of Research and the Cullen College of Engineering. The new facility will provide state-of-the-art infrastructure to support the educational experience of undergraduate and graduate students by enhancing their hands-on experience in a research laboratory setting. The new building will foster collaboration across the campus by minimizing investments in multiple and redundant instrumentation facilities by housing these core functions in a neutral location while sustaining and enhancing research growth. The new facility will include a research core that houses major core facilities that serve the critical needs of the university's research foci, both in energy and health. Other programmatic
activities can be designed to accommodate ancillary spaces in support of the research
core functions. Construction will begin Fall 2014 and is anticipated to be completed in Spring 2016.

UHV Regional Center for Economic Development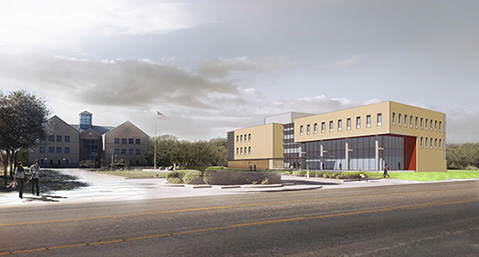 Construction has begun on the three-story multi-use facility at the University of Houston-Victoria The new facility will include a 60-seat tiered classroom, 200-seat auditorium, 400-seat multipurpose room, two 40-seat classrooms, and support for the school of Business Administration, Student Affairs and
Allied Health. The project is scheduled to be completed in Winter 2014.

UH- Downtown Girard Street Parking Garage and Visitors Center

This project includes a new Welcome Center that will house Admissions and Student Orientation as well as 28,000 gross square feet of shell space for future build out. The old garage has been demolished and final design and construction plans are being completed in anticipation of a Spring 2014 construction start.

For more construction project information, please visit the Facilities Planning and Construction website at https://www.uh.edu/plantops/departments/fpc/ or visit our Facebook page at http://www.facebook.com/UniversityOfHoustonPlantOperations.