Spring meal plans available to students, faculty and staff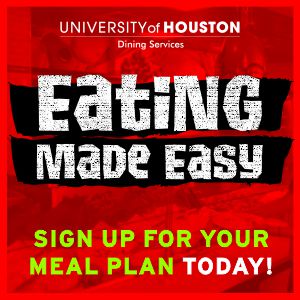 Life can get pretty hectic sometimes between classes, work, and personal life. Let the University of Houston Dining Services lighten up your load by doing all the cooking and cleaning for you while you save money.
Students, faculty and staff can enjoy on-campus dining at a discounted price with a meal plan. Having a meal plan provides options and convenience while on campus, allowing plan holders to choose from more than 30 dining options including two all-you-care-to-eat dining halls and the new UC options like McDonalds, Chick-fil-A Express, Starbucks and Panda Express.
Residents
Residential meal plans are designed for students who live in the campus residence halls or nearby apartment complexes. These plans provide three meals a day either in the dining halls, at the retail locations or a combination of both. All-Access plans provide unlimited access to the dining halls and are perfect for students who eat many small meals or snack throughout the day. Lifestyle plans provide a structured number of meals per week for students who keep a very set schedule. Both plan types also come with Cougar Cash that can be used to eat in the food courts, at the food trucks and in the convenience stores. Eat for as little as $4.97 per meal with a residential meal plan.
Students who live in Cougar Villages I and II, Moody Towers, The Quadrangle and Cougar Place are required to have a residential meal plan. The plan residents had in the fall semester will automatically roll over to the spring semester. These residents are allowed to make one change to their plan selection in the spring, and may do so by visiting accessuh.uh.edu and following these instructions.
Students living in the nearby apartment complexes or who commute must re-select their plan choices each semester, even if they had a residential plan in the fall.
Commuter students
Save up to $275 per semester on lunch with a commuter meal plan. Commuter meal plans provide easy breakfast, lunch or dinner to students who drive in for classes but may not have time to return home for lunch. The block plans include both a set number of meals in the dining halls as well as Cougar Cash to spend in the food courts and convenience stores, and can provide as few as two meals per week or as many as seven meals per week.
Faculty and staff
Faculty/staff meal plans are designed to give faculty and staff members a discount when dining in the residential dining halls. Participants can choose to purchase five, 10 or 15 meals per month in addition to Cougar Cash, and will never pay more than $6 plus tax for meals in the residential dining halls. All faculty/staff meal plans are paid through payroll deduction.
Faculty and staff members can sign up for a meal plan by visiting the Cougar Card Office in the Welcome Center Parking Garage, Suite 101.
Students can sign up for a meal plan through AccessUH or by visiting a tabling event. Those who sign up at a tabling event with the marketing team will receive free promotional items and incentives. To find out about the tabling events, follow UH Dining on Facebook.
For more information about the individual plans, visit the Meal Plans page of the UH Dining Service website.
For more information about UH Dining Services, visit www.uh.edu/dining.