New brand and old favorites offer dining variety in the University Center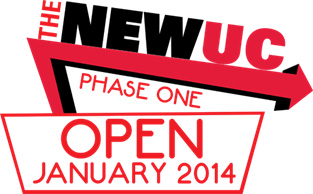 University of Houston Dining Services is proud to unveil the new dining options in the newly renovated University Center.
The new dining options, which open on Monday, Jan. 13, include McDonald's, Chick-fil-A Express, Panda Express, and Starbucks.
A Cougar Xpress Market is also part of the new additions and can be found on the first floor. Customers can find an assortment of snacks, drinks, ice cream, to-go meals, and more to keep them fueled and on-the-go.
"The dining locations in the new UC mark an incredible moment for the university and its dining program," said Amber Arguijo, UH Dining's marketing manager. "At this point, every dining location on campus is less than 15 years old. Something like this is almost unheard of for most universities and just shows the extraordinary dedication that the University of Houston has to providing its students with Tier One services that create a campus life unlike any other."
To celebrate, Dining Services is inviting everyone to the UC Dining Services Open House on Jan. 29 from 10:30 a.m. to 3 p.m. A schedule is listed below for the event, which will feature a balloon artist, caricature artist, and mascots from all three food court. The McDonald's Shoe Car will be parked in the UC circle for students to take photos inside the vehicle.
Event Schedule
10:30 a.m. - Ribbon-Cutting Ceremony
11 a.m. to 3 p.m. - Entertainers, Mascots and Display Tables
12:00 p.m. - Grand Prize Drawings
1:30 p.m. - Starbucks Make Your Own Drink Competition
2:30 p.m.- Cougar Xpress Mini Market Sweep
The second phase of the renovation project will include Freshii, which will offer organic and local soups, salads, wraps, rice bowls and more to guests. This location will open in January 2015.