Bigger, better bookstore opens doors in University Center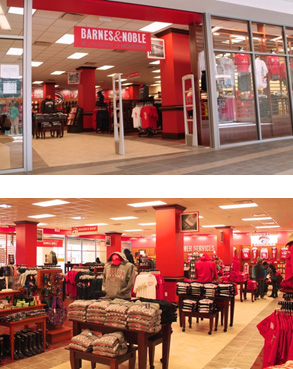 University of Houston students, faculty and staff will notice some big changes at the campus bookstore this semester.
For one, it's now located on the southeast side of the University Center, having moved from the other side of the building as part of the first phase of the UC renovation project. It's also undergone a name change, now officially known as Barnes & Noble at University of Houston.
But perhaps the biggest difference is its size. It has two levels separated by a staircase, and twice as much floor space greets visitors who come inside.
The upgrades are welcomed by Felix Robinson, general manager of the campus bookstores, who says students, faculty and staff will love everything it has to offer. That includes a larger presence of the university's rich history and traditions.
"Once you walk inside, you cannot help but notice UH graphics and photos everywhere," he said. "The walls have pictures and murals representing the university's history. On every column are photos of UH buildings. The UH culture is incorporated throughout. It's truly amazing."
The store, which opened to the public Jan. 2, will be dedicated during a ribbon-cutting ceremony on Tuesday, Jan. 28, at 2:30 p.m. In addition, an open house will be held that same day from 8 a.m. to 6:30 p.m.
To get to the bookstore, visitors coming in through the UC's main doors that face Entrance 1 need to take a right and walk just a short distance. Once they walk inside, they'll be on the top floor of the store, which houses all the non-academic merchandise, including clothing, gifts and seasonal products.
A staircase in the center of the store takes people down to the bottom level, where they will find the textbook area, school supplies, two student lounge areas, the online order pickup area, dorm essentials and general reading and reference materials.
The increased size and the addition of a second level means the larger crowds that descend on the bookstore at the beginning of each semester will be easier to manage, Robinson said.
"There's a lot more breathing space in this new location. Also, students shopping for textbooks and school supplies can get all that done on one level, while people who want to come in and buy merchandise will be able to do so in a totally different part of the store," Robinson said. "The store layout means we'll be able to get customers taken care of a lot quicker than we could in our old location. Everyone will love and appreciate that."
Students should find they will be better served in the new location, especially when it comes to picking up books they ordered online. The online order pickup area is near the entrance on the bottom level and means students can get in and out quickly.
"Students are gravitating more and more toward online orders, so having a custom online pickup area where they can go right in and pick up their orders will be nice for them," Robinson said.
But that won't be the only thing students will like about the new location. There is a Starbucks right outside of the bottom level of the bookstore, so students can get coffee and then walk right into the bookstore and sit and study in one of the lounge areas. They will also be able to admire a large, unique Chicano mural that hung for years in the old Cougar Den and which has now been transferred to the bookstore.
"Everything about this new location is wonderful and designed to better serve our customers, especially students," Robinson said. "There's nothing about it that won't make you smile."