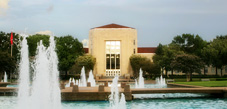 COACH DICKEY TO RETURN TO FRESH FOOD COMPANY FOR PULSE RADIO SHOW
Basketball season is here and as the UH Cougars get ready for the spring semester, The Pulse Radio Show will begin a weekly live broadcast from locations around Houston featuring Coach James Dickey, head coach of the UH men�s basketball team. �The Pulse with James Dickey� will broadcast from our very own campus on January 19 and February 16 at the Fresh Food Company at Moody Towers from 7- 8 p.m.

During the broadcasts on campus, the UH community and visitors will be able to dine on the delicious offerings at the Fresh Food Company while listening in on the live broadcast as Coach Dickey and host Kevin Eschenfelder take calls from Cougar fans and discuss the upcoming game, latest action and other sports-related topics. �The Pulse with James Dickey� can be heard live on Fox Sports KBME-AM 790 each Thursday during basketball season beginning January 5.

Door prices at Fresh Food Company on broadcast dates will be $5 from 6-8 p.m. Guests of the university can park in the Welcome Center Parking Garage�s visitor�s level for $3 after 6 p.m. For more information on University Services, visit www.uh.edu/us.