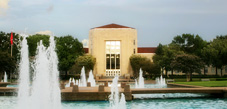 STUDENT SPOTLIGHT � EDGAR BANDA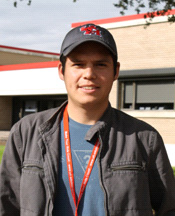 Edgar Banda has found an opportunity to get valuable real world job experience for his future career right here on campus as a student worker. While studying architecture at the University of Houston, Banda is also working as an AutoCAD drafter for the Office of Facilities Information in Facilities Planning and Construction.

As a student drafter, Banda, a southeast Houston native, is assigned to specific buildings on campus to measure each room and space then translate those dimensions into AutoCAD. AutoCAD is software used for computer-aided design and drafting. These drafts are used for the university�s annual building and room inventory report required of all higher education institutions by the Texas Higher Education Coordinating Board (THECB). The Office of Facilities Information maintains the inventory and is currently updating the floor plans for every UH and UH System building. It has brought on a team of architecture, engineering and construction management students to assist them in the project.

�As one of our student CAD drafters, Edgar has the knowledge and skills to help us successfully complete the facilities update project. He also has a very positive attitude that makes him an asset to our team and a pleasure to work with,� said Camille Porter, Space Inventory Manager for Facilities Planning and Construction.

A friend from architecture told Banda about the job back in December 2010, and he jumped at the opportunity. He said he has been able to complete the drafts for Science and Research 2 as well as the Roy G. Cullen building.

�I really like how it�s not just about being inside of the office, it�s getting out and getting to know these buildings personally, taking the measurements and then drawing them out in AutoCAD. Especially for Roy G. Cullen � there were no computer records at all, just the hand drawn floor plans, and I was the one in charge of creating that,� he said.

Banda hopes to have an architecture career that is primarily focused on the construction phase of the design build process because he said he thinks it is more hands-on than other areas of architecture. He said the opportunity to work on this project has given him valuable experience that he will be able to take with him after college.

�I think it�s helping me become more familiar with the difference between what�s on paper and what�s out there. It is so different and our professors in architecture always talk about it. To actually deal with wall thickness and very specific things like that will be very useful to me,� Banda said.

Outside of architecture, Banda said he is minoring in Mexican American studies and is also training for the Houston marathon, his first marathon. He said running is an �escape� and helps to clear his mind.

Banda will graduate with his bachelor�s degree in architecture in May 2012. He said he hopes to get a job at an architecture firm and then will consider returning to his studies to pursue his master�s degree after taking a year off. Eventually he hopes to get into residential architecture and said he would love to refurbish homes.