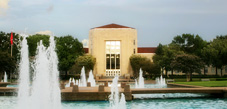 PARKING LOT AND SIDEWALK CLOSURE - STADIUM PARKING GARAGE
Beginning Saturday, December 17, 2011, portions of lots 15D and 15F will be closed to accommodate the installation of the electrical communication duct bank for the new Stadium Parking Garage.

The front lane of Gated faculty/staff parking lot 15F (area #2 on the attached map), along with the visitor parking area of lot 15D (area #1 on the attached map) will be blocked off and unavailable for parking through Monday, January 16, 2012. During this time Gated lot 15F will still be accessible through the 15D gates.

Additionally, there will be sidewalk closures (indicated in green on the attached map) to allow for trenching on the west side of McElhinney Hall. However, there will be no sidewalk closures along Cullen during this project.

Start of project: Saturday, December 17th, 2011
Expected Completion date: Monday, January 16, 2012

Please contact Morris Bennett, Project Manager, if you have questions related to this project at mlbenne2@central.uh.edu or by phone at 713-743-2535.