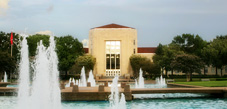 IN THE GARDEN WITH URBAN HARVEST
Citrus � year-round beauty & bounty
By Heidi Sheesley & Angela Chandler
Houston area homeowners are always on the lookout for plants that will provide more than one season of interest. Gladly, there is a group of plants that is evergreen, sets elegant and fragrant blossoms, and then provides fruit that is absolutely delicious � something of interest year-round on plants that grow beautifully in the Houston area - Citrus.

Citrus trees are evergreen, don�t require specific pruning schemes and adapt well to shaping. Citrus are available in many sizes, from container specimens to large landscape jewels.

In the landscape they can be shaped and grown as small trees, kept pruned in a shrub form, planted out in a large hedgerow, or even grown as an informal espalier when space is at a minimum or when called for by design.

In containers, citrus can serve as stately patio specimens or as delicate sentries at a doorway or garden entrance. Their fragrance, evergreen quality and attractive fruit make them a natural for the well-landscaped pool area where the container provides protection from chlorinated water.

Citrus blossoms appear as elegant white stars, often in attractive clusters, and sometimes tinged with pink or yellow. The fragrance of citrus varies a little with variety, but their fresh, appealing scent is welcome in any garden.

Citrus do not require a period of chilling to set a crop of fruit, as many other fruits require. Many varieties of citrus are hardy well into expected average Houston winter temperatures with some being able to withstand temperatures into the 20�s.

Citrus fruits can be left on the tree for a longer period after ripening than most fruits, removing the pressure to harvest and prepare fruit for storage. Even after harvest, properly stored citrus fruits can last for a very long time without cooking or preservation, ready to eat fresh and full of nutrition.

Disease and insects pests seldom bother citrus. One visitor to citrus is the Giant Swallowtail Butterfly, whose larvae feed on citrus leaves. They are an interesting-looking caterpillar; so just let them munch a bit. They won�t do any permanent damage, and the leaves will replace themselves after the caterpillars leave to cocoon.

Republic of Texas is the only truly cold-hardy orange. It has been growing around Santa Fe, between Houston and Galveston, since 1847. The tree will grow relatively large and produces delicious, medium to large fruit that is sweet and juicy.

Blood Oranges are fast becoming a favorite for cooking and juicing. The flesh of blood oranges is pink to deep red depending on the number of cool nights. The juice is equally dark and sweet, making it an elegant addition to Sunday brunch.

Satsumas are probably one of the most popular citrus grown in Houston. Satsumas are a group of named mandarins, with a sweet and fragrant flesh. There are many wonderful and flavorful varieties. They peel easily and have very few, if any, seeds. Satsumas come in early, mid-season, and late season varieties, and the harvest can last several months if your trees are selected with this in mind. Satsumas are a very cold hardy citrus, surviving 20 � 25 degrees or lower.

Kumquats are a wonderful landscape selection. They are highly ornamental specimens, growing about 8 feet tall and 6 feet wide in the landscape, smaller in containers. They are often heavy bearers and can set fruit year round. Their fruit is a beautiful bright orange and is meant to be eaten skin and all. The fragrance of a freshly broken kumquat is indescribable. Kumquats are very cold tolerant, withstanding freezes to 17 degrees.

There are several kumquat hybrids worth paying attention to. Limequats are a lime-kumquat hybrid. Their flavor is similar to that of a Mexican Lime � sour, but not bitter. Mandarinquats are an attractive, cold-hardy kumquat-mandarin hybrid with orange, bell-shaped fruit that is much larger than a typical kumquat. The sweet peel is eaten along with the tart flesh for a unique and delicious flavor combination.

Lemons and limes can be eaten fresh or used for juices and cooking. The Meyer Lemon is one of the most cold-hardy varieties, tolerating temperatures down to 29 degrees. Although it bears most heavily November through April, the tree is ever-bearing with flowers and fruit present on the tree at the same time. If allowed to ripen on the tree, the bright green rind turns golden.

Ujukitsu Orange is known as the Lemonade Fruit. Ujukitsu is a unique and beautiful fruit that peels and sections easily. The flesh is said to taste like lemonade.

The Mexican Lime, also referred to as the Key Lime, bears a profuse amount of small, thin-skinned, greenish-yellow limes. This juicy lime is known for its distinct aroma and high acid content. The Mexican Lime flowers and fruits almost continuously. This beautiful, compact tree needs to be planted in a protected area and needs winter protection.

These selections will be among the many varieties of citrus available at the Urban Harvest Fruit Tree Sale to be held on Saturday, January 14, 2012, from 9 a.m. to 1 p.m. or until sold out, at the University of Houston�s Robertson Stadium. For more information see Urban Harvest Fruit Tree Sale Details.

Heidi Sheesley is the owner of TreeSearch Farms Inc., a wholesale grower of perennials, natives and unique plants. Angela Chandler is a Harris County Master Gardener. Learn about gardening classes, community and school gardens, farmers markets and more at www.urbanharvest.org.