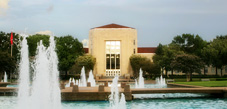 ELIGIBILITY INTERVIEWS NOW AVAILABLE THROUGH TEXAS MEDICAL CENTER FOR GLOBAL ENTRY PROGRAM
Frequent international flyers can skip the hassle at customs by registering for the Global Entry program. If enough travelers sign up for this convenient service, the U.S. Customs and Border Protection agency will conduct interviews at the Texas Medical Center for TMC member institutions, including the University of Houston.

The Global Entry program began in 2007 as a way for frequent travelers who are pre-approved and low risk to receive expedited clearance into the United States for a total of five years. Instead of waiting through long lines, during the duration of their membership participants can instead utilize automated kiosks located at select airports around the nation, including our very own George Bush Intercontinental Airport.

To be eligible, travelers must have never been convicted of a criminal offense or been found in violation of customs, agricultural or immigration laws. They must also never have been the subject of an investigation by any federal, state or local law enforcement agency.

If 12 travelers from the TMC member institutions register for the program by February 29, 2012, then the eligibility interviews will be scheduled at the Texas Medical Center.

Travelers interested in participating must:
1. Register online at www.globalentry.gov and receive their registration ID number.
2. Contact Laura Jordan, Project Management Specialist at Texas Medical Center at lcjordan@texasmedicalcenter.org or 713-795-1236 to provide registration ID number and schedule eligibility interview with U.S. Customs and Border Protection.

For more information on Global Entry, visit www.globalentry.gov.