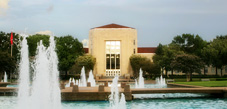 Student Spotlight � Kimberly Cooper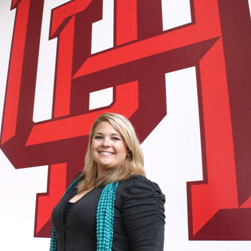 When Kimberly Cooper graduates in a year from the University of Houston, she hopes to land a marketing job.

That would be a far cry from the chores and FFA activities she did growing up on a farm. It�s also completely different than the dental assistant work she did for a few years after graduating from high school.

Cooper is a public relations/communications major who is working as a student worker for UH Dining. As such, she helps market meal plans to students and staff, and can often be found representing UH Dining at various events across campus. It�s a job she has held since August.

�I stand out there by tables engaging with students about different meal options, different plans, ways to save money,� she said.

She also works as a student worker for Human Resources. This semester, she also will do a student manager internship for UH Dining, which is operated by ARAMARK.

Several years ago, before she enrolled at UH, she worked as a dental assistant.

�I loved it. And I still do. I still hold my certification, even though I am not actually doing it full-time right now,� Cooper said.

Eventually, she realized she wanted to pursue a different career. That�s when she applied for and was accepted into UH. But, she still does dental assistant work from time to time on the weekend through a company called Onsite Healthcare. The company provides dental care to troops and National Guardsmen who are about to be deployed overseas.

�The system is just so full that they don�t have enough facilities to get these guys checked out,� she said. �If they have a tooth that is fractured, in 12 months that might be a problem. They may get an abscess. So, we take care of that before they get deployed.�

This past April, Cooper and a group of people from a non-denominational missionary group called Serving Him Ministries went to Guatemala for a week. There, they did needed dental work for the residents, and also installed stoves and handed out food packs.

Cooper lives about four hours from her family�s home in Killeen, which is about 40 minutes away from the farm where she grew up in the tiny community of Zabcikville in Bell County.

�I still miss my mom and dad every now and then,� she said.

Although she enjoyed helping her dad with farm work and all the animals, including goats, sheep, cows and pigs, she realized that wasn�t her calling in life.

What�s her dream job? She wouldn�t mind doing some sort of marketing work in the dentistry field, or eventually landing a position with Apple.

Cooper said she appreciates the cultural diversity that UH has to offer, having attended a high school that had a student population that was overwhelmingly white.

�When you are in a big diverse campus like this, you are more appreciative of other cultures. And so for me, I think it will give me a better understanding of the world,� she said.