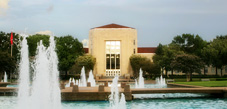 UH shuttle service undergoes several changes

The University of Houston has a new shuttle service provider and revamped shuttle routes.

Groome Transportation, a Richmond, Va.-based company, is the new operator of the Cougar Line. Three shuttle routes now service students on the UH campus: the Outer Loop, Eastwood/ERP and Campus Loop routes.

Groome was chosen to be the next provider because of its history of excellent service, a track record of reliability and safe drivers. At the same time, a subcommittee comprising students, faculty and staff reviewed data regarding the current shuttle routes.

�They made the calculated decision that the three routes that would continue to run would best serve the UH community and the mission of Parking and Transportation Services,� said Christian Backstrom, a member of the UH Transportation and Parking Advisory Committee.

Campus Loop
The Campus Loop remains much the same as it had been as it carries passengers in a continuous loop around the perimeter of the campus. One major change riders will notice is that once the Loop Road Project is completed, the buses on this route will have an additional stop in front of the Cougar Woods Dining Hall. Click here to view a map of the route.

Eastwood/ERP Line
This route remains the same as it shuttles riders to and from the Energy Research Park to the University Center, with a stop at the Metro Eastwood Transit Center. Click here to view a map of the route.

Outer Loop
The Outer Loop route combines the current blue and purple shuttle. Click here to view a map of the route and stop locations.

Robert Browand, director of Parking and Transportation Services said the route changes in the UH shuttle system will help lower the growing cost of operating the shuttle service, which is funded entirely from parking permit sales. In 2012, it cost $2.4 million to maintain and operate the service. With the revamped routes, that cost will be reduced to an average of $1.4 million annually.

�Operating costs for the shuttle have increased dramatically, doubling since 2004,� Browand said. �The burden of the increased cost has been placed on faculty, staff and students in the form of higher parking rates.�

In addition, the higher cost for the shuttle service was diverting funding away from much-needed parking lot maintenance and other parking projects. The money that will be saved will now be used for these projects.