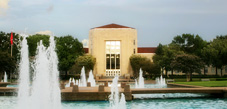 A message from the UH Wi-Fi team

Welcome back students, faculty and staff members. We expect many of you have received nice, new wireless devices such as laptops, iPads, tablets, e-readers and smartphones during the holidays.

We would like for everyone to have the best Wi-Fi experience using your devices. Wi-Fi performance is dependent on each device�s capabilities and settings, as well as the number of Wi-Fi users in your immediate location.

Click here to optimize your wireless device settings. If you are still experiencing Wi-Fi performance issues, look around. Stay away from congested areas with lots of people using Wi-Fi. If you are using high-bandwidth applications such as videos and gaming, please be considerate of your peers by avoiding high-density study areas. The campus Wi-Fi coverage map is available at www.uh.edu/wi-fi.

In addition, please remember cellular coverage is not provided by UH, so the quality of the signal is dependent on each cellular service provider.