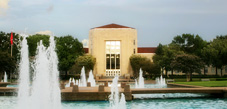 Number of students using high-speed network has more than doubled
As part of its Wi-Fi Awareness Campaign, University Information Technology launched a Wi-Fi service desk at M.D. Anderson Library and a raffle for students in September. The purpose of the Awareness Campaign is to encourage students to use the high-speed Wi-Fi network.

The campaign more than doubled the number of users using the high-speed Wi-Fi network from 24 percent to 54 percent. This number is expected to continue to rise as students learn how to reconfigure their mobile devices to connect to dual band networks.

University of Houston College of Natural Science and Mathematics student Abu Sule Abdul, shown in the photo, was the third winner of UIT�s Wi-Fi raffle. He received a Netgear N600 wireless dual band USB adapter.

UIT�s Wi-Fi service desk is on the first floor of M.D. Anderson Library and it is open from 9 a.m. to 1 p.m. Monday through Friday.

An average of 200 students have visited the booth each week since it debuted in September, seeking ways to improve their high-speed Wi-Fi experience on campus. In some cases, this simply requires reconfiguring the settings on their wireless devices. In other cases, a USB adapter is suggested.

Students using devices capable of accessing only the low-speed �g� network are encouraged to purchase a Wi-Fi dual band USB adapter from Cougar Byte for $52.99 or any other computer retail store.

For information about UH wireless services, initiatives, coverage map and FAQs, visit www.uh.edu/wifi. To learn how to improve your Wi-Fi experience, click here. Follow us on Twitter @UHWireless.